Rumsfeld makes surprise visit to Baghdad
(Agencies)
Updated: 2004-05-13 17:14
U.S. Defense Secretary Donald H. Rumsfeld arrived in the Iraqi capital Thursday on an unannounced visit aimed at calming the storm over abuse at Abu Ghraib prison and lifting the spirits of U.S. troops.
He was accompanied by Air Force Gen. Richard Myers, chairman of the Joint Chiefs of Staff and some of the Pentagon's most senior lawyers.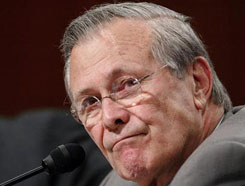 U.S. Secretary of Defense Donald H. Rumsfeld listens to questions as he testified, Wednesday, May 12, 2004, before the Senate Defense Appropriations committee. [AP]

They planned to meet the top U.S. commander in Iraq, Lt. Gen. Ricardo Sanchez, and other senior commanders.

Rumsfeld's visit came a day after the military announced it will court-martial two more American soldiers, including a man accused of taking part in standing a wired-up prisoner on a box and threatening him with electrocution ¡ª a scene displayed in one of the photos surrounding the abuse scandal. A third soldier was already scheduled for court-martial.

Brig. Gen. Mark Kimmitt, chief U.S. military spokesman in Iraq, announced Wednesday that Staff Sgt. Ivan L. "Chip" Frederick II of Buckingham, Va., and Sgt. Javal Davis of Maryland, would face a general court-martial. He said no trial date and venue had been set.

At a Senate hearing Wednesday in Washington, Rumsfeld said Pentagon lawyers had approved methods such as sleep deprivation and dietary changes as well as rules permitting prisoners to be made to assume stressful positions.

Myers told senators the military has taken steps to correct the problems that led to abuses, including replacing the military police unit that took some of the photos.

The Senate Armed Services Committee has been holding hearings to determine whether prisoner abuses were limited to the Abu Ghraib facility. The committee also wants to see whether responsibility went beyond a small group of enlisted soldiers and their immediate supervisors, who the Army says provided inadequate training and supervision.

Among the uncertainties is whether military intelligence officials directly or indirectly encouraged the abuse in order to "soften up" detainees for interrogations.
Today's Top News
Top World News

Nick Berg died for Bush, Rumsfeld 'sins' - father




Nation reports fourth monthly trade deficit




Rumsfeld visits Iraq, vows no abuse cover-up




Major differences exist in six-party talks




Gandhi-led opposition wins India election




Capital acts on low-end housing