Vajpayee to resign as BJP loses in India
(Agencies)
Updated: 2004-05-13 16:41
Indian Prime Minister Atal Behari Vajpayee's Bharatiya Janata Party has conceded defeat in parliamentary elections in a stunning voting upset that should see the return of the Nehru-Gandhi dynasty to power.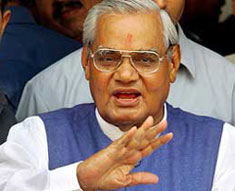 Vajpayee's BJP concedes defeat. [AP]

Vajpayee -- who called the election six months earlier -- is also expected to resign within hours, India's defense minister said.

With counting still continuing, early results showed a stronger than anticipated showing from the main Congress party headed by Italian born-Sonia Gandhi.

Unofficial trends by major TV stations have Congress leading the BJP. But the immediate result of the vote count is likely to be a hung parliament, with no party gaining a clear majority of 272 seats in the 543-member lower house, or Lok Sabha.

However Senior Congress party officials say they are confident they will be able to form a government with the help of left leaning parties, CNN New Delhi Bureau Chief Satinder Bindra reports.

"We have not got the mandate of the people, we have decided to sit in the opposition," said BJP President Venkaiah Naidu.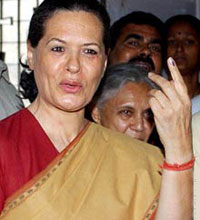 Sonia Gandhi is now likely to be India's next prime minister. [AP]

The move has paved the way for Gandhi to be sworn in as the next prime minister in the world's biggest democracy.

Gandhi is the widow of Rajiv who was was assassinated in 1991 by Sri Lanka's Tamil Tiger rebels. Rajiv is the son of former prime minister Indira Gandhi and grandson of India's first premier Jawaharlal Nehru.

India's last female leader was Indira Gandhi, who was assassinated while in power in 1984.

Gandhi, and her popular children Rahul and Priyanka, have revitalized the Congress party, leading it to defy opinion polls that only weeks ago suggested they had no hope of faring well in this election.

Vajpayee called the early election in a seemingly unassailable position -- boosted by a booming economy and also a strengthening peace process with neighbor and arch-rival, Pakistan.

In contrast, the Congress party and its allies have been championing the nation's poor, which the party says has been left out of India's new found prosperity.

While Indians have traditionally voted on party, caste and religious lines, this election has been fought on bread-and-butter issues such as jobs, prosperity, water and electricity.

Financial markets were initially nervous with the benchmark index of the Mumbai Stock Exchange, the Sensex, opening 3.3 percent lower. But the Sensex bounced back as early results and trends pointed towards a Congress victory. It is up about 1 percent to 5409.17 in afternoon trade.

India's massive election was staggered over several stages because more than 650 million people voted.

Elections are usually tinged with violence in the world's largest democracy, and this year was no different -- despite more than 400,000 security forces being deployed.

Election violence claimed 48 lives, less than half the number of deaths that occurred in the 1999 election.
Today's Top News
Top World News

US lawmakers say new abuse photos even worse




Wen pushes for Irish partnership




Taiwan spy sentenced to 5-year in prison




Separation means dead end for Chen




Corruption's long and winding road




Two more US soldiers face court-martial