Video gamers get older, get online - U.S. survey
(Agencies)
Updated: 2004-05-13 11:32
Contrary to a popular stereotype, the average video game player is not a teenage skateboarder but a more mature fun-seeker old enough to be his dad, according to a survey released on Wednesday.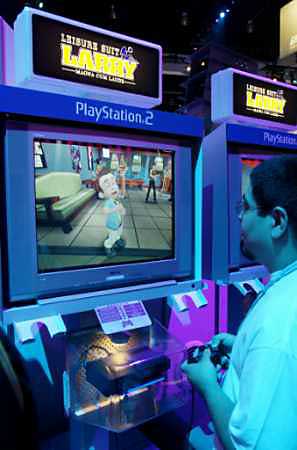 A video game enthusiast tries out the 'Leisure Suit Larry Magna Cum Laude' video game for the Sony PlayStation 2 at The Electronic Entertainment Expo or E3, a trade show for the video game industry, in Los Angeles May 12, 2004. [Reuters]
A survey compiled by the Entertainment Software Association and released at E3, the video game industry's major trade show in Los Angeles, found that a slight majority of video game players are now over 18 years of age.
In fact, the average age of game players was 29 and the average age of buyers was 36, with men making up 59 percent of the playing audience.
The association's annual consumer survey, released to coincide with the formal opening of the E3 show, found that 52 percent of people who have increased their game-play time have done so at the expense of watching TV, while 47 percent go to the movies less in favor of playing games.
The ESA also found a steady increase in online gaming, with 43 percent of gamers playing online an hour or more each week, up from 31 percent two years ago. So-called "casual" games, usually puzzle, board, trivia or card games, were overwhelmingly the most popular online titles.
In a "state of the industry" address at the opening of the annual E3 video games trade show here, ESA President Doug Lowenstein said things had changed dramatically in gaming in the show's 10-year history.
"The games that were the buzz of 1995 look simple and charming by today's standards," Lowenstein told a packed audience at the convention center in Los Angeles.
Just over a third of those surveyed said they wanted the video game industry to rely less on licensing spinoffs from Hollywood movies and other material in favor of developing original content over the next 10 years.
More than 60,000 people have descended on Los Angeles for E3, a crucial week for the $25 billion global games business.
The game use survey was conducted by Ipsos-Insight and based on a poll of 1,400 U.S. households, the ESA said.
Today's Top News
Top Life News

US lawmakers say new abuse photos even worse




Wen pushes for Irish partnership




Separation means dead end for Chen




Corruption's long and winding road




Two more US soldiers face court-martial




Looming grad numbers strain job market