First lady, first sign on Rumsfeld?
(CNN.com)
Updated: 2004-05-13 09:54
U.S. Defense Secretary Donald Rumsfeld is likely to resign -- and soon (meaning, before the election). The sign came not from a defecting Republican senator, the president or even Major General Antonio Taguba. Rather, the tell-tale sign came when first lady Laura Bush spoke recently about the yet-to-be-released photos of Iraqi prisoner abuse.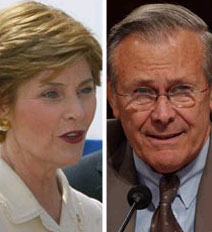 What might smart Republicans hear in Laura Bush's comments about images of Iraqi prisoner abuse? [AP]

When the first lady said she could not bear to look at them, smart Republicans knew that she was probably speaking for a broader swath of voters -- women voters, particularly Republican women.

Indeed, as characterization of the pictures moves from "abhorrent" to "disgusting," the president's team probably realized that women voters -- unlike men -- are probably much less likely to look past the scandal as simply an "eye for an eye." And women voters, after all, make up a majority of the electorate (some 52 percent in 2000).

And so, as is often the case in politics, it has been left to a wife to tell a powerful man what perhaps no one else will say -- or say right away.

Nancy Reagan had to tell Ronnie that Donald Regan had to go as his chief of staff. Hillary Clinton had to tell Bill in 1994 that he needed to bring back his sometime-nemesis, political mastermind Dick Morris, if he wanted to recover from that year's disastrous Congressional elections and win a second term.

And so once again, when the dust finally settles, it will probably not have been the words of Cabinet members like Colin Powell or Don Evans, or even conservative columnists like George Will, that will make the difference, but rather the words of a loving spouse. Indeed, Laura Bush's words likely will be seen as having foreshadowed the end of Rumsfeld's career as secretary of defense.

War dot com

From the beheading of Nicholas Berg to coffin pictures and prison abuse, the Internet is showing Americans a view of war that network -- or even cable -- television never has.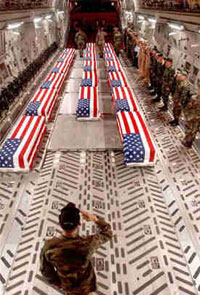 Coffins of U.S. military personnel are prepared to be offloaded at Dover Air Force Base in Dover, Delaware in this undated photo. The U.S. Air Force, in response to a Freedom of Information Act request, released to Web site http://www.thememoryhole.org on April 14 more than 300 photographs showing the remains of U.S. service members returning home.The Pentagon tightly restricts publication of photographs of coffins with the remains of U.S. troops and has forbidden journalists from taking pictures at Dover Air Force Base in Delaware, the first stop for the bodies of troops being sent home. [Reuters]

If Viet Nam was America's first televised war, the Iraqi war will go down as America's (and the world's) first Internet war -- war dot com.

In addition to showing more war-related images and more severe images than television can and will, the Internet makes them available continuously at the command of the viewer rather than the convenience of the network.

Indeed, just as television brought new images of war home to millions of Americans in 1968, so too is the Internet bringing even more graphic and varied images of war home to Americans in 2004, changing American perceptions of the conflict and ultimately American decisions.

Only in this war, the "enemy" and even non-enemy international parties can insert themselves into America's internal debate about the war through the power of the Internet.

That al Qaeda or a German newspaper or Amnesty International can provide their own perspective and information on the war -- instantly and unfettered -- to millions of Americans is also undoubtedly having a profound impact on the conduct, cost and success of this war.

In the weeks ahead, expect to hear more commentators make this point -- that for better or for worse, the Internet is not only changing how Americans see war, but decisions about the war itself.

The Apple of Kerry's eye

One of the best pieces of recent news for the Kerry presidential campaign may have been lost in the news of the last two weeks. John Kerry has enlisted Apple founder and CEO Steve Jobs as an informal campaign adviser. Why the big deal, you say? He's just another tech titan.

Actually, Jobs is more than that. Indeed, Steve Jobs is one of the most talented marketers of the last 50 years.

From personal computers to music over the Internet, he's always known how to make necessities (even commodities) seem cool. Now his marketing expertise may help Kerry seem not only necessary to voters, who may be increasingly weary (and wary) of the president, but he may also help Kerry seem distinctive and appealing.

In short, Steve Jobs may help the Kerry campaign "think different" and build a clear and compelling political brand.

A strong and appealing brand could help voters put all of Kerry's policy proposals and personal story, his pluses and his minuses, into a positive, catchy package.

George W. Bush did this in 2000 when he labeled himself "a compassionate conservative." Steve Jobs can help John Kerry find a similar short-and-sweet moniker.

(Courtesy of CNN.com)
Today's Top News
Top World News

US lawmakers say new abuse photos even worse




Wen pushes for Irish partnership




Separation means dead end for Chen




Corruption's long and winding road




Two more US soldiers face court-martial




Looming grad numbers strain job market