Scaffolding collapse kills 21 in Henan
(China Daily)
Updated: 2004-05-12 23:42
Scaffolding at a newly-built industrial chimney in the Central China city of Anyang collapsed Wednesday morning, leaving 21 workers dead and eight injured, the State work safety authority reported.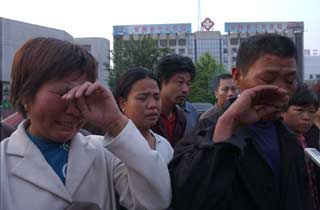 Relatives of workers react to news of the accident. [newsphoto]
The tragedy occurred at about 9:20 am when a clinch bolt at the foot of the scaffolding loosened and the men fell from a height of 63 metres. Officials said the bolt's loosening was likely caused by rainfall that had made the ground slippery.
The chimney was being completed by the No 7 Company of the Henan Construction Group for the second phase of a project of Ancai Group, a colour-display tube production giant.
It had rained heavily on the previous day in the city in Henan Province, some 500 kilometres south of Beijing.
But how the rain caused the bolt to become loose was not immediately known.
According to a Xinhua report, the scaffold began to break away just as the chimney was finished and the workers were about to leave the scaffold.
All the workmen on the scaffold fell as it collapsed, according to authorities.
The injured were rushed to nearby hospitals, Xinhua reported.
Henan's Deputy Governor Shi Jichun provincial work safety bureau officials reportedly arrived at the site soon after.
Governor Li Chengyu visited the hospitalized victims and held an on-spot meeting with investigators after that.
Local government officials moved quickly to deal with the emergency. The disaster follows other major incidents in Jilin, Beijing and Sichuan, which led to the sacking of a number of high-rank officials.
Ancai Group, with assets totalling 11.7 billion yuan (US$1.4 billion) and employing more than 10,000 people, Wednesday refused all comment to reporters.
"You got the wrong number,'' an official at the company told China Daily on the telephone when asked for information about the accident. He hung up before further questions were asked.
But the operator confirmed to the newspaper it indeed was Ancai Group, and the firm was indeed building a second phase of the chimney project.
Today's Top News
Top China News

One-China policy only option for Chen




Wen pushes for Irish partnership




Scaffolding collapse kills 21 in Henan




Microsoft warns of 'important' Windows flaw




Sports bureaux take blame for lottery fraud




Bubbles from 'stir-frying' houses