Clinton says he wants 'Life Back' after book
(Agencies)
Updated: 2004-05-12 15:09
Former President Bill Clinton joked on Tuesday that he needs to finish his memoirs because "I need my life back."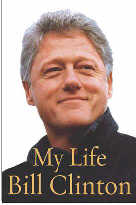 Appearing at a political fund-raiser, Clinton said he had been in "writer's jail" at his home in Chappaqua, N.Y., finishing his manuscript for publishing house Alfred A. Knopf.
"For three months I have done nothing but try to finish the story of my life that was hard enough to live the first time," he said at a fund-raiser sponsored by Voices for Working Families and Moveon.org at the Apollo Theater in Harlem just blocks from Clinton's offices.
The highly anticipated autobiography entitled "My Life," for which Clinton was reportedly paid between $10 million and $12 million, is due out in late June.
"I've got to finish the book," he said. "I need my life back."
The book, which the publisher has said will candidly discuss Clinton's scandal-plagued White House years, will reportedly run some 900 pages.
The former president will embark on a worldwide tour when his book is released, Knopf said. He is slated to make his first promotional book appearance on June 3 at the book industry's BookExpo America annual convention in Chicago.
Plans call for a first printing of 1.5 million copies.
Knopf is the flagship imprint of the Knopf Publishing Group, which is a division of Random House Inc., whose parent company is Bertelsmann AG.
Today's Top News
Top Life News

US lawmakers say new abuse photos even worse




Wen pushes for Irish partnership




Separation means dead end for Chen




Corruption's long and winding road




Two more US soldiers face court-martial




Looming grad numbers strain job market