Wen touts all-around exchange
By Meng Yan (China Daily)
Updated: 2004-05-11 23:07
Visiting Premier Wen Jiabao said China and Britain should continue to pursue high-quality co-operation across the board.
Wen delivered this message in a speech at the banquet hosted by China-Britain Business Council on Monday local time.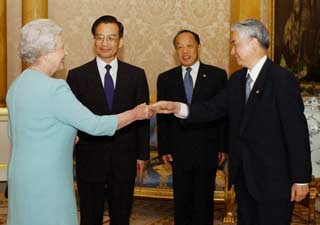 Britain's Queen Elizabeth (L) greets (L-R) China's Premier Wen Jiabao, China's Foreign Minister Li Zhaoxing and China's Ambassador Zha Peixin at Buckingham Palace in London, May 11, 2004. [Reuters]
The premier also met with Queen Elizabeth II Tuesday before wrapping up his three-day official British visit. He then flew to Ireland, the last leg of his five-nation European tour.
Wen made a six-point proposal to promote Sino-British trade co-operation at the event, noting that China welcomes the British business community playing an active role in the transformation and reconstruction of the old industrial areas in China's northeast.
It is an important and urgent task in China's industrial restructuring to transform and upgrade the traditional manufacturing sector with sophisticated technology and managerial expertise, he said.
This could be an excellent area for bilateral co-operation since Britain boasts rich experience and considerable technological strength in this regard, Wen said.
The premier said China is ready to step up exchanges and co-operation within areas concerning financial stability and financial services.
With unique advantage in capital operations and financial regulation and supervision, London is an important international financial centre. Wen encouraged the British financial sector to actively participate in reforming and developing China's banking, securities and insurance sectors.
Noting that China is now devoting its efforts to developing new energy sources and raising energy consumption efficiency, Wen expressed hopes the two countries can consolidate co-operation in the sector.
He said China would like to expand co-operation in the exploration and development of oil and gas resources, research and development of energy-conserving technologies, new energies, and the use of renewable energy.
Turning to high-tech areas, which Wen has underscored throughout his European tour, he said China and the United Kingdom have much to do in areas as biotechnology, information and new materials.
The premier then turned to educational and cultural co-operation, saying that China is willing to draw upon British experience in building research universities and to support substantive collaboration between universities in teaching and research, especially in joint training of high-calibre people. He said China also hopes to increase cultural exchanges and promote mutual understanding through various forms.
Today's Top News
Top China News

Price drop indicates economy cooling down




Premier: Taiwan legislation to be studied




US$1.5b in contracts signed in London




Olympic venues open to global bids




China's first frozen egg baby born




Exit poll: Arroyo wins Philippine election