Graduate employment: High hopes, low access
(China Today)
Updated: 2004-05-11 16:38
It is February 28, 2004. Beijing University graduate Feng Jun has queued the whole morning for an entry ticket to a job fair in the grounds of the Beijing Military Museum. On approaching the entrance he hesitates, and abruptly leaves.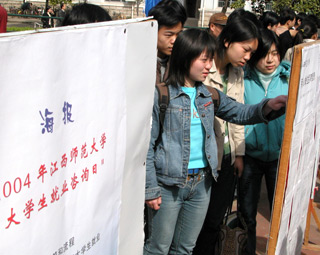 Tight job market drives more and more graduates to futher their studies for a postgraduate programme. [newsphoto/file]

"That guy is weird," others waiting in the queue murmur as they watch Feng Jun walk away. "I was not sure whether or not to come," says Feng. "Recruitment fairs are always packed. Hundreds, sometimes thousands compete for just one position. Resumes are often piled high, and there is low likelihood of being invited to an interview later on."

The majority of college graduates knows what will happen at a recruitment fair, but goes to as many as they can anyway. Why? Because if they don't they just might miss out on a good job opportunity.

Feng is a graduate of Beijing University, and as such the creme de la creme of Chinese educated youth. Most of his friends think he has few worries about finding a good job, but they are quite wrong. Feng always comes back from the recruitment fairs empty-handed, disappointed and disillusioned. He nevertheless makes enquiries as to when and where the next one will be. "I wish my friends were right about my ease of finding a good job.

Under the current circumstances even returned overseas graduates have a struggle finding a position, never mind local graduates." Feng is right. Statistics show that 700,200 Chinese went abroad to study between 1978 and 2003, and that 172,800 came back to the PRC to work.

In 2003 alone, returned overseas students and scholars numbered 20,100 -- a 12.3 percent increase over 2002. A World HR Lab sample survey shows that 35 percent of returned overseas students have difficulty finding work back in China, and that they are among the ranks of the unemployed. Among those interviewed, it took 30 percent three months to find a job, and 15 percent are still jobless after five months of looking.

"Returned overseas students add more pressure to the Chinese job market," says Feng Jun, "Their overseas experience and fluent English put us at a disadvantage." But Feng is lucky. He has received notification to prepare for the last round of interviews with L'OrĄ§|al for a position dreamed of by many of his peers. Thousands of candidates were eliminated in the preliminary rounds. "I may qualify for the last round, but am still not confident of getting this position. L'OrĄ§|al only need one or two applicants for the position, yet in Beijing alone a dozen people have been summoned to take the final test."

The increased number of college and university graduates is at odds with reduced job opportunities in contemporary China. Extended college enrollment in 1999 could be the culprit. "I wish I had been born a few years earlier," exclaims Feng Jun. "A few years ago it was so easy for graduates to find work. Many got jobs prior to graduating." Feng is right again. In 1992, there were 2.18 million Chinese college and university students.

In 1998, their numbers increased to 7.8 million, and in 2002, to 16 million. Extended college enrollment aimed at improving education standards, but has had the effect of exacerbating unemployment. When higher education was limited to a fortunate few there were plenty of high positions for the taking, and the government took responsibility for graduate job allocation. As the number of college students increased, however, positions were quickly filled and opportunities reduced. Since the government stopped allocating jobs, university graduates have been left to fend for themselves in today's dog-eat-dog job market.

Bright Lights, Big Cities

Major cities like Beijing and Shanghai face much heavier employment pressure than others because students who have succeeded in getting there are reluctant to leave upon graduating. "I have lived in Beijing for four years and am now familiar with the city. Ideally I would like to stay here, but if that isn't possible I'd like to go to Shanghai, Shenzhen or another big city with a broad scope of opportunity," says Feng Jun. To most college graduates a good opportunity means a high income and development potential. But graduates of universities in major cities must contend with those of small and medium-sized cities for work. The latter have lower expectations and are willing to work for relatively low pay in exchange for an employment foothold in the city of their choice.

In view of fierce job market competition, some big city students decide to study abroad and get even better qualifications. Feng Jun is considering this path. He explains, "My parents are keen for me to study abroad. They say that it will improve my English and enhance my educational background." Feng has passed the compulsory TOFEL and GRE tests, but made no applications because, as he says, "My parents are out of touch with the present situation. It is very difficult to get an American visa right now. Several of my classmates have received school invitation letters, but were refused American study visas. My parents don't realize just how many returned overseas students and scholars are currently jobless."

While hundreds of people compete for a handful of professional posts, vacancies for sales clerks and technical workers remain unfilled. In 2004, Nanchang, capital of Jiangxi Province, increased annual salaries of senior technical workers to the levels of 30,000; 60,000; and 100,000 yuan, but there were still no applicants. Positions like this are considered lowly, and vocational schools equipped to train people for such work have difficulty enrolling students. The result is the strange phenomenon whereby smaller cities offer high salaries for qualified people but get no applicants, while bigger cities experience increased employment pressure because too many candidates compete for too few positions. The reason is simple - college graduates prefer to find work in big cities.

The Draw of Foreign Enterprises

Though Feng Jun's major is journalism, he is by no means confining his job search to the media. "If I take up work as a reporter at the beginning of my career, I won't be able to try my hand at anything else in the future. But if I select another field in which to begin my career, I can be more flexible and eventually return to journalism." He has applied to a select few media companies, but sent the bulk of his resumes to foreign enterprises in China -- first choice for most Chinese college graduates.

"My aunt works as manager in a Shanghai foreign enterprise," says Feng. "She encourages me to look for openings in foreign companies because they usually have an advanced management mode and training programs. They invest a considerable amount in training young employees, and this has strong appeal for university graduates." Salaries offered by foreign companies are impressive, but are hard earned under high pressure. At Feng's interview, L'OrĄ§|al's president bluntly told him that all that would be expected of him was abundant product orders. If he could not achieve the required volume, he would be out.

Feng also considered applying to state organizations and state-owned enterprises, as his parents would like to see him in a secure position. He finally dismissed the idea of entering state organs after an experience at a recruitment fair. On hearing that he is a Beijing University graduate, the state unit refused him on the grounds that he wouldn't stay long. "My classmates also had similar experiences," says Feng. "Many state organizations and enterprises believe that the likes of us do not stay long. Well, as long as they provide us adequate development space, why shouldn't we stay? But they are always looking for excuses for their low work efficiency and never try to improve their working conditions so as to attract more talents." Since that experience, Feng is more inclined to look for work at a foreign firm.

Feng has never considered working in private enterprise. Though many private companies have adopted advanced management modes, their focus is on making profits so they want staff with work experience and good social connections. Very few private enterprises invest in staff training. This is not the sort of environment in which Feng Jun can fulfill his goals.

There are about 2.8 million college graduates in China in 2004, as well as 600,000 million unemployed 2003 graduates. Competition is fierce. Boys have the advantage over girls, and local residents over outsiders. Feng Jun is not a native of Beijing, but still has more chance of getting a job than his female classmates who are not from Beijing. He has had an offer from one small company, but is still looking out for a better job in town. "If I can't find my ideal job, I may apply to take a master's degree in the hope it will bring me more opportunities." His future development is not a matter Feng takes lightly.


Today's Top News
Top Life News

Premier: China will consider Taiwan reunification law




Taiwan recount to settle vote dispute




Tornado pummels Guangdong areas, kills 6




China denies plan of administrative remap




Pedestrians obey laws or pay up




Red Cross: Iraq abuse routine, systematic