Transsexual's wedding mirrors social changes
(Xinhua)
Updated: 2004-05-11 14:47
When Zhang Lin proudly put on a Western style wedding gown, she was no different from the many happy brides who chose to marry their fiances during the week-long May Day holiday, except that until nine months ago, she was a man.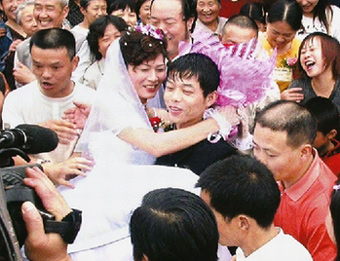 A man-turned-woman Zhang Lin, a Sichuan native, is cuddled by her groom Yang Qizheng on their wedding ceremony during the May Day holiday. [newsphoto]

Thousands of farmers watched with a mixture of curiosity and disbelief as the 38-year-old bride and her groom Yang Qizheng celebrated their wedding in Fenghuang village, Chongzhou city, in the suburbs of Chengdu, southwest China's Sichuan Province.

"No, I don't think she's a weirdo. How can I? She's a woman just like myself," said an old lady who gave her family name as Pan.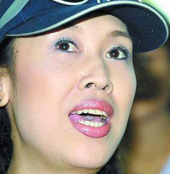 Zhang Kesha, China's first transexual: I used to be a woman trapped in man's body. [newsphoto/file]

But for Zhang Lin, formerly named Zhang Shilin, the road to womanhood was a difficult one, even though she knew from her earliest years she was a female at heart.

Zhang was brought up as a timid, self-conscious boy and always liked to wear nice dresses and long hair. At 24 the woman at heartwas pressured to marry a young woman from a neighboring village and their daughter was born the following year.

The role of husband and father had always harassed Zhang, who was determined to divorce when their daughter was 12 years old andopened a hairdressing salon in Shuangliu on the outskirts of Chengdu.

Toward the end of 2002 Zhang fell in love at first sight with Yang Qicheng, a man who came to the salon as an apprentice.

With Yang's support, Zhang underwent a sex change operation in August 2003 at a People's Liberation Army Hospital in Chengdu and realized her life-long dream to become a real woman.

In March 2004, Zhang was identified as female on her national ID card issued by the local police bureau.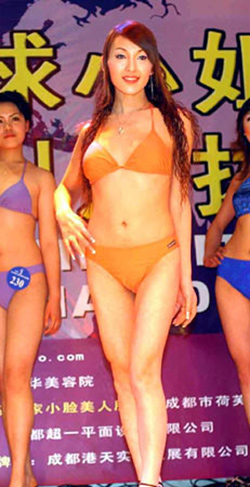 Chen Lili, a Chinese transsexual, shows during the Sichuan regional competion of Miss Universe, March 7. She was granted an oppotunity to appear at the contest to display her good shape and look. The organizers say she can not enter the next phase of the beauty pageant because she is not born a woman. [newsphoto/file]

"I'm so happy," said Zhang at the wedding. She attributes the happiness to the mutual love and trust between her husband and herself, as well as the support and understanding from many other people who have come to accept her.

Observers say the Chinese society, even the countryside, is rapidly catching on to new trends.

In 1996, four Chinese transsexuals got married, and have been leading normal lives ever since. One of them, a man-turned-woman, is running a family firm with her husband and has adopted a child.

"This shows the Chinese society has adopted a more tolerant attitude towards transsexuals," said Prof. He Qinglian, a leading orthopedics expert who is dubbed "savior of Chinese transsexuals".

The first transsexual patient Prof. He operated on in July 1990was Qin Huirong, a woman at heart and a graduate of Shanghai's prestigious Fudan University, who throughout her childhood and teenage years wanted so desperately to become a real female that she was on the verge of killing herself.

Qin, who gave herself a more feminine name Qin Huiying after sex change, suffered a lot from social prejudice. The man-turned-woman was for a time kicked out by her former employer and even her own parents, but finally managed to find a new job as a translator with a Sino-foreign joint venture in Shanghai's Pudong New District.

After Qin, Prof. He has been visited several thousand other patients, and operated on over 60 of them -- the youngest 20 and the oldest 60.

Through the years, Chinese people have become more sympathetic to this special group and are more ready to embrace them back intosociety. "After all, it's not their mistake to have been endowed with the undesired gender at birth," said an elderly couple roaming the streets of Chengdu.

Sources with the Ministry of Civil Affairs have also expressed sympathy to transsexuals, saying they should enjoy the rights and freedom to get married like all other citizens.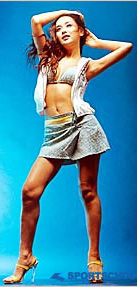 Harisu (He Lixiu in Chinese), a popular Korean male-turned-female star, is titled as the most stunning transexual beauty throughout the world. [sina]

Most transsexuals themselves, on the other hand, are now brave enough to face the spotlight as well as public curiosity.

The 1.73-meter-tall Chen Lili, formerly named Chen Yongjun Chen,is now a stunning fashion model in the southwestern Chongqing Municipality.

Chen underwent a sex change operation last November in east China's Shandong Province, and picked up the new name "Lili", inspired by a popular Korean male-turned-female star "Harisu", or in Chinese "He Lixiu", who is her idol.

Incomplete statistics suggest China has 400,000 transsexuals, and more than 1,000 of them have realized their life-long dream tolive as their real selves over the past 16 years.

Dr. Zhang Zhengwen with the People's Hospital of Henan Province,central China, explained that prior to such an operation, the patient had to undergo a thorough psychological examination to make sure that the change would not adversely affect his or her life or mental health.

Experts say a sex change operation is the only way to save manytranssexuals' lives, because neither medical nor psychological therapies can help them out. Besides, 90 percent of transsexuals are likely to commit suicide when their requests for sex change are turned down.

But sociologists say that whether or not a sex-change person can enjoy his or her new life still depends on understanding and care of the whole of society, especially by their relatives.
Today's Top News
Top Life News

Premier: China will consider Taiwan reunification law




China, Britain push for stronger relations




Taiwan recount to settle vote dispute




China denies plan of administrative remap




Tornado pummels Guangdong areas, kills 6




Red Cross: Iraq abuse routine, systematic