Mandela, in farewell speech, slams Iraq war
(Agencies)
Updated: 2004-05-11 09:18
Former President Nelson Mandela Monday hailed South Africa's 10 years of peaceful multi-racial democracy as inspiration for a world he said was saddened and horrified by the U.S.-led war in Iraq.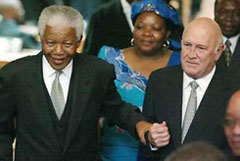 Former South African presidents, Nelson Mandela(L) and FW de Klerk, leave the country's Parliament in Cape Town, May 10, 2004. Mandela and de Klerk addressed a special joint sitting of Parliament in celebration of ten years of democratic rule in the country. [Reuters]

The 85-year-old anti-apartheid icon, in a farewell address to parliament on the 10th anniversary of his inauguration as the country's first black president, urged South Africans to come together to meet their new challenges: poverty, unemployment and HIV/AIDS.

"We live in a world where there is enough reason for cynicism and despair," said Mandela, a fierce critic of the U.S.-led war on Iraq, told parliament.

"We watch as two of the leading democracies, two leading nations of the free world, get involved in a war that the United Nations did not sanction," Mandela said, adding that the world had been horrified by reports of torture of Iraqi prisoners by U.S. and British forces.

"We see how the powerful countries, all of them so-called democracies, manipulate multilateral bodies to the great disadvantage and suffering of the poorer developing nations."

Mandela -- who stepped down in 1999 and wryly referred to himself as "a retired old pensioner" -- said South Africa had forged a path based on respect for human dignity.

"Historical enemies succeeded in negotiating a peaceful transition from apartheid to democracy exactly because we were prepared to accept the inherent capacity for goodness in the other," he said in a joint appearance with former President F.W. de Klerk, his fellow architect in South Africa's transformation.

BOWING OUT

Mandela, who turns 86 on July 18 and appears increasingly frail, said Monday's speech would be his last to parliament and aides say he plans to drastically cut back on his public schedule to concentrate on his family and writing projects.

Legislators in somber business suits and spectacular African traditional dress filled the ornate parliamentary hall with rhythmic clapping and a melodic chant of "Nelson Mandela" as the white-haired statesman made his way slowly out of the chamber.

"Your words of wisdom have not fallen on deaf ears," Agriculture Minister Thoko Didiza said in parliament's official thanks to its founding president.

Mandela said he believed the country was in good hands with his successor President Thabo Mbeki, who led the ruling African National Congress (ANC) to another landslide victory in elections in April, winning a second five-year term.

"His achievement as president and national leader is the embodiment of what our nation is capable of," Mandela -- who has been known to disagree with Mbeki in the past -- said before an audience that included Mbeki and his entire cabinet.

De Klerk, who shared a Nobel Peace prize with Mandela, said South Africa averted the racial bloodbath many feared only through tough negotiation.

"We all did the right thing: we came together," de Klerk said. "I call on all people to continue to work together and to take hands and to make our country a shining example to the rest of the world."

Mandela used his speech to highlight one of his main causes: the HIV/AIDS epidemic which infects about one of nine South Africans, making it the hardest hit country in the world.

"HIV/AIDS continues to threaten our future in a particularly frightening manner," Mandela said, adding poverty, unemployment and disease "blot out the landscape as we strive to give content to the democratic commitment of a better life for all."

"Our democracy must bring its material fruits to all, particularly the poor, marginalized and vulnerable. Our belief in the common good ultimately translates into a deep concern for those who suffer want and deprivation of any kind," he said.
Today's Top News
Top World News

China, Britain push for stronger relations




Taiwan recount to settle vote dispute




China denies plan of administrative remap




Tornado pummels Guangdong areas, kills 6




Red Cross: Iraq abuse routine, systematic




Pedestrians obey laws or pay up