Cancer drives to realize her dream
(China Daily)
Updated: 2004-05-11 08:39
Ruo Yan, 36, still remembers how terrible the day was when she was sent to the operating room in Guangdong Provincial People's Hospital in Guangzhou.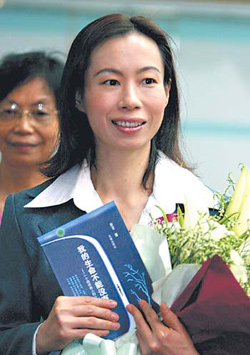 Ruo Yan holds a copy of "I Cannot Live Without You" at the ceremony to promote the book at the Guangdong Provincial People's Hoppital in Guangzhou. [China Daily]

That was in March of last year.

"I cannot recall the exact date when I was diagnosed as having a malignant tumour in the tissue of my left kidney, but I remember with great clarity how I felt like the whole world had fallen apart at that moment," Ruo said.

She remembers, too, that she felt the same way on the day she underwent kidney surgery.

Realizing a dream

Before the diagnosis, Ruo had had a charmed life.

She had been a locally-established professional dancer and worked as a senior executive with a transnational company.

In addition, she is well grounded in mechanical engineering and holds degrees in economics, education and English.

But the most exciting thing that has helped her face the disease with a positive attitude is the 200,000-word autobiography she has written focusing on her days in the hospital. She finished it during her seven-month stay in hospital.

She wrote "I Cannot Live Without You" (Wode Shengmingzhong Buneng Meiyou Ni), to help other cancer sufferers regain hope and fight the fatal disease courageously as she has done.

The Guangdong Provincial People's Hospital recently held a ceremony to promote Ruo's book.

Ruo had dreamed of becoming a writer right from when she was very young, but she said she did not brighten up immediately with the removal of her tumour last March.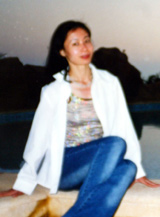 Ruo Yan poses for a photo in Guangzhou. [China Daily]

"I had many dreams in life, and I did not think I would have the time to fulfill them all," she told doctor Fu Li at the hospital.

Ruo initially thought that she would start writing in her older years, when she would have plenty of time to finish her dream.

Fu, who was himself a liver cancer patient, finally convinced Ruo that it was time for her to take up the pen.

"So I started writing, eight days after surgery," said Ruo.

Things did not become easier for her after the surgery, as she had to fight the severe pain in her waist after the operation.

"I was undergoing chemotherapy and suffered from severe diarrhoea and acute pains in my waist, but I kept on writing at least 2,000 words a day," she said.

Ruo recalls how desperate she felt the day she was told that one of her friends had died of leukaemia.

"After that, I told myself to speed up my writing in order to realize my dream in the time I had left in my life," said Ruo.

In addition, Ruo finished three theses in the sickbed.

"I have met quite a few cancer patients over the past year and I know well enough that a simple 'cheer up' will not help them," said Ruo.

"I hope they will read my book and forget their own pain, if only for a while," she added.

Although she has left the hospital, Ruo has to go in for frequent check-ups, but she feels better as she has time to talk to her friends and do what she likes.

She has opened a weekend English course for children, which she said helps dispel her feelings of loneliness.

After she had told her students' parents what she had experienced a year ago, she was surprised to hear that some parents were sending their children to her class with the hope that the children would pick up on her optimistic attitude towards life.

Ruo works six hours a day over weekends, but she is satisfied with the project, especially when the children's English shows signs of improvement.

"One of the boys was said to be a bit slow in learning, but he has turned into a rather quick learner in my class," said Ruo.

The hospital where Ruo underwent surgery has appointed her as their "Caregiving Spokesperson."

Ruo frequently visits the hospital and talks to other cancer patients to help them develop optimistic attitudes towards life.

Official statistics indicate that approximately two million Chinese are diagnosed with cancer every year and some 1.5 million die of various types of cancer across the country.

"It is very important to diagnose cancer early and provide appropriate medical therapies as soon as possible," said professor Wu Yilong, vice-president of the Guangdong Provincial People's Hospital.

According to Wu, almost all patients fear death when they are diagnosed as having cancer.

Wu wrote a preface to Ruo's book, in which he says that a patient with an optimistic attitude towards life can better deal with disease and strengthen immunity against it.

"I am deeply touched by her love for life and her persistence. Patients like her better understand how to cherish life and overcome disease.

"What's more, it is crucial for cancer patients to keep faith in themselves and to keep to a healthy lifestyle, with an appropriate balanced diet, adequate exercise and an optimistic attitude."

Ruo Yan has decided to write a second book in her fight against the disease.

"I shall forever be thankful for having been given time to fulfill my dream."
Today's Top News
Top Life News

China, Britain push for stronger relations




Taiwan recount to settle vote dispute




China denies plan of administrative remap




`Killer' milk powder suspects nailed




Red Cross: Iraq abuse routine, systematic




Inspection groups to supervise officials