Zheng Yuanjie's 19 years in fairy tales
(CRI)
Updated: 2004-05-10 15:38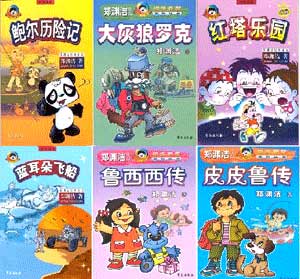 Some of Zheng's works [file photo]

Although it's 19 years since Zheng Yuanjie wrote his first fairy tale, his fictional characters have not aged at all and Zheng is still hard at work and since he started writing, tens of millions of Chinese have grown up reading his stories about the naughty but kind-hearted boy Pipi Lu and his little sister Lu Xixi.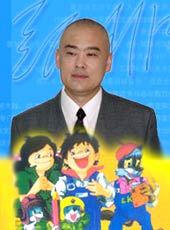 Zheng Yuanjie, the captain of China's children literature. [file photo]

Zheng Yuanjie dropped out of the primary school after four years and joined the army at 15. As a child the writer describes himself as a troublemaker. Once he brought a sparrow onto a military plane which promptly disappeared, causing a great fuss. The plane was later disassembled to locate the sparrow and of course Zheng was harshly criticized for the mischief.

Five years later the soldier quit the army and went to work in a factory to watch over water pumps. Several years later when he heard that publishing houses were paying good money for new works, he began mailing his poems to publishers all over the country. After countless failures, he finally had one poem published in Fenshui, a magazine in Shanxi Province. This encouraged him to continue to write until he became an editor for a Beijing based magazine.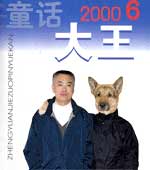 Zheng and his pet dog appear on the cover of a issue of the monthly "Fairy Tales." [file photo]

By 1984, Zheng Yuanjie's works had appeared in more than newspapers and magazines. When the writer was refused a pay rise he began thinking about setting up a new magazine devoted to his work. The magazine eventually became the 'King of Fairy Tales' and the first issue came out in 1984 with Zheng Yuanjie as the only writer. When it was published it was the only magazine in China with only one writer!

The magazine for children which Zheng Yuanjie founded has been publishing for 19 years. At its peak, it had a monthly circulation of over 1 million copies. Through the magazine children in China got to know Pipi Lu, Lu Xixi, Shuke the Mouse and Rock the Wolf and Zheng's tales continue to attract millions of adults as well as children.

For someone devoted to writing, what was his most influential book? "The most useful book for me is the Modern Chinese Dictionary. It helped me learn a lot of words. Parents shouldn't blame their child for misspelling or something. Mistakes like that won't stop them becoming good writers in the future."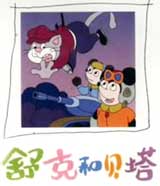 Zheng's trademark work "Shuke And Beita" [file photo]

When Zheng Yuanjie's son graduated from primary school, the writer decided he would educate him at home and wrote a 200,000-word textbook instead of sending him to middle school. According to Zheng, the textbook included sections on history, philosophy, law, finance, among other subjects, all of which he considers "essential" knowledge.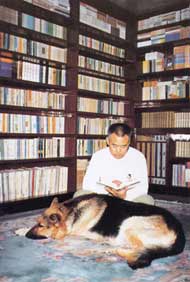 Zheng and his dog in his study [file photo]

The writer's own life experiences have made him a bold iconoclast as his explanation for not sending his son to middle school or college shows; "College education tends to make simple things complicated and hard to understand. What we should do is to teach our children the most essential and simple principles of life and ways to handle problems."

The fairy tale writer likes to be alone and refuses to have any relationship with literary circles or the various associations of writers. To him, his imagination works best in his own world.

Talking about his success, he says, "Even people who do cleaning work can write fairy tales. And they can even make better work than me. The problem is that no one encourages them to do so. The most essential thing that people seek is appreciation by others. That is what largely decides one's success or failure. "
Today's Top News
Top Life News

Xi'an lottery fraud suspect admits cheating




Wen leaves Italy, arrives in London




Minister: 12.7m more boys than girls under 9




`Cancer village' in spotlight




Taiwan starts recount of disputed election




Rebel bomb kills Chechen leader, 13 others