Koizumi to pick up abductee kin in Pyongyang
(Agencies)
Updated: 2004-05-10 14:41
North Korea asked Japan several times in March and April for Prime Minister Junichiro Koizumi to travel to Pyongyang to pick up relatives of Japanese abductees living there, government sources said Sunday.
North Korea told Japan it is prepared to return eight relatives of the five Japanese abducted to North Korea and repatriated to Japan in October 2002 if Koizumi goes to pick them up, the sources said.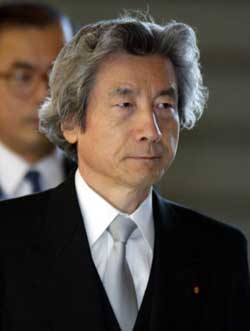 Japanese Prime Minister Junichiro Koizumi enters his official residence in Tokyo May 7, 2004. [Reuters]

North Korea told Japan it wants to resolve pending issues with Japan by holding top-level talks in accordance with the Pyongyang declaration signed by Koizumi and North Korean leader Kim Jong Il during Koizumi's landmark visit to North Korea in September 2002.

Japan unofficially proposed Koizumi pay another visit to Pyongyang at bilateral talks held in Beijing on May 4-5 and the two countries are expected to resume negotiations soon to fix a date for Koizumi's trip, they said.

However, there is caution over the visit within the Japanese government and the ruling Liberal Democratic Party.

They say other pending issues, including determining the facts behind the abductions by North Korea and North Korea's missile program, should be resolved prior to the visit.

The fates of 10 other Japanese nationals Japan believes were abducted by North Korea remain unclear.

According to the sources, North Korea conveyed its intention to allow the relatives to be reunited with their families in Japan if Koizumi visits North Korea.

After receiving the messages from Pyongyang, Taku Yamasaki, former vice president of the LDP, proposed sending high-ranking government officials, including the premier if necessary, to North Korea to pick up the relatives.

He made the proposal to North Korean officials in China in early April.

The five abductees were abducted by North Korean agents in three separate cases in 1978, and were finally allowed to return to Japan in October 2002.

Their return came a month after Koizumi made a landmark trip to Pyongyang for summit talks with Kim. They signed the Pyongyang declaration, in which they agreed to resume negotiations on normalization of diplomatic ties.

The five abductees left seven North Korean-born children and the American husband of one of the abductees behind when whey returned in October 2002 from 24 years of captivity in the North. Four of the abductees who were allowed to return to Japan were couples.
Today's Top News
Top World News

Xi'an lottery fraud suspect admits cheating




Wen leaves Italy, arrives in London




Minister: 12.7m more boys than girls under 9




`Cancer village' in spotlight




Taiwan starts recount of disputed election




Rebel bomb kills Chechen leader, 13 others