First soldier faces court-martial over Iraq abuse
(Agencies)
Updated: 2004-05-10 08:31
Stung by a worldwide outcry, the U.S. military Sunday announced the first court-martial in the Abu Ghraib prisoner abuse allegations, ordering a reservist to face a public trial in Baghdad on May 19.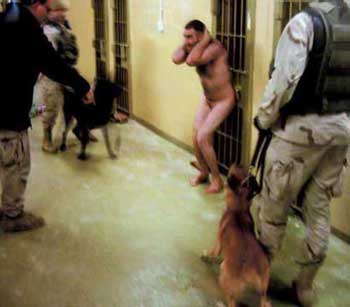 Unidentified U.S. soldiers leashing dogs surround a frightened, naked Iraqi detainee in this photo obtained by The New Yorker said to be taken in December 2003, at the Abu Ghraib prison in Baghdad, Iraq. [AP]

Spc. Jeremy C. Sivits of Hyndman, Pa., a member of the 372nd Military Police Company, will face a military court less than a month after photos of prisoners being abused and humiliated were first broadcast April 28.

Both the speed of the trial's scheduling and the venue in the Iraqi capital underscore the military's realization that it must demonstrate resolve in prosecuting those responsible for a scandal that threatens to undermine the U.S. mission in Iraq and President Bush's re-election chances.

Brig. Gen. Mark Kimmitt, announcing the trial date, said the proceedings would be held in the Baghdad Convention Center, which houses the coalition press office, and be open to media coverage.

Bush promised Saturday that "we will learn all the facts and determine the full extent of these abuses. Those involved will be identified. They will answer for their actions."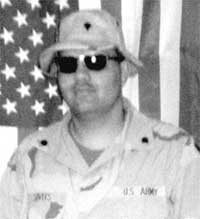 U.S. army Specialist Jeremy Sivits. [AP]

Sivits is one of seven soldiers facing charges but appears to be a lesser figure in the case. Some of the others will likely face a general court martial, which can give more severe punishments than the "special" court martial that will try Sivits. His trial could produce evidence for prosecuting others believed more culpable.

Sivits is believed to have taken some of the photos that triggered the scandal. His father, Daniel Sivits, said last month his son "was told to take a picture, and he did what he was told." He said his son trained as a mechanic but found himself performing military police work for which he was unqualified.

The family said it had no comment Sunday morning.

Sivits was charged with conspiracy to mistreat detainees, dereliction of duty for failing to protect prisoners and maltreatment of detainees. Seven officers have received career-ending reprimands.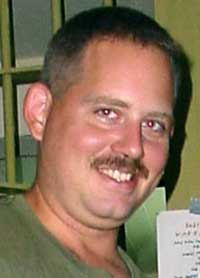 An undated handout photo supplied by the Washington Post shows U.S. Army Specialist Charles A. Graner, Jr., at Baghdad's Abu Ghraib prison. Graner is among a group of soldiers who face charges that include conspiracy, dereliction of duty, cruelty toward prisoners, maltreatment, assault and indecent acts. The first of seven U.S. soldiers charged with abusing detainees at Iraq's Abu Ghraib prison will be court martialed later this month in a public trial, the U.S. military said on May 9, 2004. [Reuters]

If convicted, Sivits could face one year in prison, reduction in rank to private, forfeiture of two-thirds of his pay for a year, a fine or a bad conduct discharge. Penalties could include only one, all or any combination of those punishments.

Sivits will be able to chose between trial before a single military judge or a three-member panel of senior officers. He has the right to a civilian attorney and will have access to military counsel.

Officials hope the trial will convince Iraqis that the United States does not tolerate torture reminiscent of the darkest days of Saddam Hussein and will act swiftly to punish those responsible. Saddam's regime used the grim Abu Ghraib facility, located on the western edge of Baghdad, to torture and murder thousands of his critics.

The trials could determine whether abuse at Abu Ghraib was an aberration - as the U.S. command insists - or stemmed from pressure from military intelligence units to make detainees more compliant under questioning.

Months before the scandal broke, the International Committee of the Red Cross told top Washington officials it had problems with the treatment of prisoners in Iraq and at the U.S. detention center in Guantanamo Bay, Cuba, said Antonella Notari, chief agency spokeswoman.

She said ICRC President Jakob Kellenberger spoke about prison conditions during January meetings with Secretary of State Colin Powell, National Security Adviser Condoleezza Rice and Deputy Defense Secretary Paul Wolfowitz.

"He raised concerns regarding detention in Iraq, along with Guantanamo and other locations," Notari told The Associated Press in Geneva.

One soldier facing charges, Spc. Sabrina Harman, said she and others with the 372nd Military Police Company took direction from Army military intelligence officers, CIA operatives and civilian contractors who conducted interrogations.

American officials have insisted the abuses at Abu Ghraib were carried out by a handful of soldiers who failed to follow procedures and were not part of a systematic program of brutality.

"Please don't paint with such a wide brush that it indicts the other 135,000 American soldiers and Marines out there doing the right thing," Kimmitt told reporters. He said investigators believe that only a "very small number of guards" were involved.

However, Iraqis freed from U.S. custody since the war began in March 2003 have long told of abusive treatment including lying bound in the sun for hours; being attacked by dogs; being deprived of water; and left hooded for days. Until photos were published, their complaints won little attention except from human rights groups.

Last summer, Amnesty International said it learned Red Cross inspectors were finding serious abuses, and it charged that "torture and gross abuse of human rights" were occurring.

On Friday, the ICRC disclosed it had repeatedly demanded last year that U.S. authorities correct problems at Abu Ghraib and other detention centers. The Americans took action on some issues but not others, it said.

"We were dealing here with a broad pattern, not individual acts. There was a pattern and a system," Pierre Kraehenbuel, the Red Cross operations director, said in Geneva.

U.S. lawmakers have warned that the most repulsive photos have yet to be released and have insisted that the Army investigation should have repercussions for higher-ups, not just the military police accused of abusing detainees.

"I think command responsibility has to be looked at just as seriously as the abusers," Republican Senator Lindsey Graham of South Carolina said Saturday in an interview.

In an interview by e-mail from Baghdad, Harman, the military policewoman, told The Washington Post it was made clear that her mission was to break down the prisoners.

"They would bring in one to several prisoners at a time already hooded and cuffed," Harman said. "The job of the MP was to keep them awake, make it hell so they would talk."

Harman, 26, is one of two smiling soldiers in a photo standing behind naked, hooded Iraqi prisoners stacked in a pyramid.

Lt. Gen. Ricardo Sanchez, commander of U.S. forces in Iraq, ordered an investigation into allegations of abuse at Abu Ghraib in mid-January. The investigation attracted little attention until the photos were revealed.

On Saturday, Maj. Gen. Geoffrey Miller, head of U.S. detention centers in Iraq, said there were no plans to close Abu Ghraib. He blamed the abuse of detainees on poor leadership and disregard for the rules.

Miller, who reviewed procedures at all 14 prison facilities in Iraq, said Army specialists were retraining prison guards. He insisted Iraqi prisoners were now being treated in accordance with the Geneva Conventions and that interrogation teams were following Army guidelines while trying to get "the best intelligence as rapidly as possible."

Miller was appointed in April after Brig. Gen. Janis Karpinski, the commander of Abu Ghraib, was suspended amid abuse allegations. He said the United States intends to cut the number of prisoners to improve conditions but that "we will continue to conduct interrogation missions at the Abu Ghraib facility."

Kimmitt said Sunday that 325 prisoners had been released from various detention centers over the past two weeks.
Today's Top News
Top World News

Premier: China will consider Taiwan reunification law




Taiwan recount to settle vote dispute




Tornado pummels Guangdong areas, kills 6




Bush job rating dips, support for war down




China denies plan of administrative remap




Pedestrians obey laws or pay up