Rebel bomb kills Chechen leader, 13 others
(Agencies)
Updated: 2004-05-10 00:08
A bomb at a packed stadium killed Chechnya's Moscow-backed leader Akhmad Kadyrov and at least 13 others Sunday, dealing a huge blow to President Vladimir Putin's efforts to stamp out separatist forces there.
The commander of Russian forces in the region was among many others injured during the assassination. Officials said the bomb was apparently concealed in the stadium's structure. It detonated during annual celebrations marking Moscow's 1945 victory over Nazi Germany.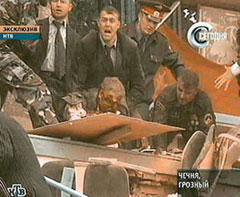 A video grab from NTV Russian television shows security personnel helping a man (C), believed to be Chechen leader Akhmad Kadyrov, seconds after an explosion at a stadium in Grozny, May 9, 2004, during annual celebrations of 'Victory Day'. [Reuters]

"Kadyrov passed away on May 9 on the day of our national holiday," Putin was quoted by the Kremlin as saying after meeting the official's son, Ramzan.

Valery Baranov, commander of Russian forces in the region, underwent surgery for serious wounds at a military hospital.

There were scenes of pandemonium at the Dinamo stadium after the blast as people ran in panic and smoke rised from the wreckage.

Television showed a man carrying a young boy, unconscious and bleeding from the mouth, down the terraces. Another old man, blood pouring through a bandage on his head, was being helped away by two men.

Reports said about 20 people were wounded.

Reuters journalist Adlan Khasanov, who was covering the event, was among those killed, his brother said. Khasanov, 33, had worked as both a Reuters photographer and television videographer since the late 1990s, mostly in his native Chechnya.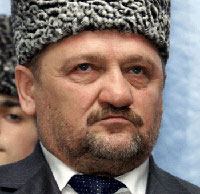 Akhmad Kadyrov [Reuters]

"The bomb was placed inside a concrete part of the stadium," said Khamid Kadayev, Chechnya's deputy interior minister, speaking to television reporters from the blast site.

He said this was why the bomb had not been detected the previous night and Sunday morning when the stadium was swept by security officials.

News reports suggested the bomb may have been planted in the stadium during reconstruction work during the past three months.

Itar-Tass news agency quoted an interior ministry official as saying five people had been detained in connection with the attack. It gave no further details.

Kadyrov, bearded and thickset, once called on Chechnya's Muslims to fight a jihad (holy war) against the Russian army but he later made his peace with Moscow and is now viewed by Chechen rebels as a traitor.

Blast targeted VIP area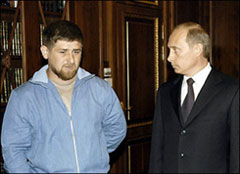 Russian President Vladimir Putin (R) talks to Ramzan Kadyrov, son and chief of the security of the killed Chechen leader Akhmad Kadyrov in Moscow's Kremlin. [AFP]

The stadium attack at what would have been a high-security event, celebrating a major occasion in Russian history, dealt an enormous blow to Putin's efforts to restore order in the north Caucasus region.

Putin, who has several times declared the war in Chechnya to be effectively over, has made his hardline policy there a key part of domestic policy. He told World War II veterans after the attack:

"There can be no doubt that retribution is unavoidable for those whom we are fighting today. It will be unavoidable for terrorists."

Kadyrov had been the lynchpin of Putin's attempts to restore firm Russian rule in Chechnya. He was elected last October, virtually unchallenged, to build an administration capable of establishing full Russian authority.

Interfax news agency said Sergei Abramov, at present Chechen "prime minister", would take over as "acting president".

The attack appeared to be the most audacious launched by Chechen rebels on Russian forces and the administration in Chechnya since Russian troops reoccupied the area in 1999.

Victory Day is a major national celebration in Russia of enomrous symbolic importance in the country.

The Grozny ceremonies were mirrored by festivities throughout the country, including a march past on Moscow's Red Square overseen by Putin.

Russia marks Victory Day

Speaking before thousands of soldiers, veterans and dignitaries in Red Square, Putin congratulated World War II veterans Sunday for their victory over Nazi Germany 59 years ago, saying their heroic feats proved that Russians can overcome any enemy.

In his speech, Putin thanked the World War II veterans, saying "they did not allow the country to bend to its knees and proved that no enemy will be able to break us, intimidate or defeat us."

The Victory Day holiday is one of the most solemn and resonant across the former Soviet Union, which lost some 27 million people in World War II, known here as the Great Patriotic War.

"It's a great holiday -- makes me want to live," said 80-year-old Tamara Tayurskaya, who said she had joined the ranks of the Soviet army at age 15, serving as a radio operator in her father's unit in Belarus.

She and other veterans, draped with medals, stood proudly in the stands flanking the Lenin Mausoleum. Most of them come every year to meet old comrades and bask in the nation's gratitude.

"I feel joy for our country, that it was able to overcome such a strong foe as German fascism," said Major General Vitaly Polyakov, 81, who fought from the siege of Stalingrad all the way to victory in Berlin.

"This victory encompassed everything -- courage and selflessness, staunchness and belief, grief and tears," Putin said.

Turning to events in the world today, Putin said, "we have no right to close our eyes to the fact that the Nazi swastika and the idea of fascism is still alive and that no less a terrible evil is added to it -- international terrorism."

"It brings death and destruction, and the task of the whole world community is to give a worthy rebuff and free the world of this contagion," said Putin, who has made Russia a key partner in the US-led war against terrorism.

After his brief speech, some 5,000 soldiers, carrying spit-shined rifles and military banners, marched past him to the beat of a military band.

Parades and commemorations were held across the former Soviet Union. In the former Soviet republic of Ukraine, silver-haired veterans marched slowly down Kiev's main street, while free vodka and porridge -- a Victory Day tradition -- were handed out at a memorial in the hills above the Dnipro river.

Ukraine saw some of World War II's fiercest battles when Nazi troops and their allies seized its territory and were later driven out by the Soviet Union's Red Army.
Today's Top News
Top World News

Xi'an lottery row takes another twist




Wen leaves Italy, arrives in London




`Cancer village' in spotlight




Rebel bomb kills Chechen leader, 13 others




Researcher: Sweat may transmit SARS virus




Consumption up during long holiday