Doctor faces new challenge after fast
(China Daily)
Updated: 2004-05-09 22:16
Just two days after walking out of a clear box in which he spent 49 days fasting, Chen Jianmin reacted only with dismissive anger at hearing Sima Nan's name.
By all accounts, Chen has just broken a fasting world record of 44 days set by an American magician last year.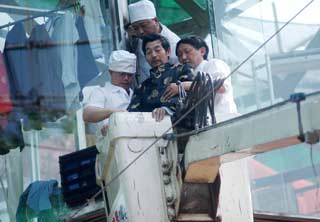 Chen Jianmin, a doctor of traditional Chinese medicine from Luzhou, Sichuan Province, walks down from the mid-air see-through dwelling on Friday after 49 days of fasting. [newsphoto]

Internet surfers have come to call the 51-year-old traditional Chinese medicine doctor from Luzhou, Southwest China's Sichuan Province, the "oriental superman" after he walked out of a see-through dwelling hung in mid-air.

But Sima, who is known across the China for his fight against superstition, stepped up efforts to debunk Chen and his record.

Sima has even written a public letter to the China Association for Science and Technology, urging for a medical check of Chen.

"It is just impossible," Sima said.

American magician David Blaine set a world record for fasting at 44 days late last year

Reports have begun to circulate that Chen will take up Sima's challenge.

Chen, however, dismissed those reports almost angrily, saying he would not reply to a "vile person" like Sima.

He did say, however, that he would take up any challenge put up by the Chinese Institute of Traditional Chinese Medicine

Meng Hui, an official with the Chengdu-based Wanguan Group which planned and held Chen's stunning self-imposed fast as a commercial promotion of its Bifengxia tourist resort in Yaan, Sichuan province, reaffirmed that the record is true.

"It is normal for such an extraordinary incident to draw some suspicion," he said. "But the plain fact is a big and renowned group like Wanguan cares about nothing more than it does about its reputation. Even if this were a scandal indeed, how could we have let it happen in such a special place as Bifengxia?"

The Wanguan Group signed a contract in 1999 with the Yaan Municipal Government to run the Bifengxia tourist resort. The move marked the beginning of a pilot programme in the country to have private companies operate State-owned tourist resources.

Moreover, anyone who has ever met Chen or talked with his patients, will have an easier time believing his amazing deed, said Meng.

In Meng's words, Chen is a "simple and sincere" person with an entrenched faith in traditional Chinese culture, who started learning kungfu at the age of 13 and began professional training in traditional Chinese medicine when he was 16 year old.

As for the widely-reported payment of between 500,000 yuan (US$60,400) and 1 million yuan (US$121,000) from the Wanguan Group, Chen said he has not got any of it so far.

"I only care that I have brought home to more people the amazing power of our traditional medicines," he said, insisting any individual living on traditional Chinese medical theories could have managed the same feat.

Sunday was the second day that Chen spent back in his hometown, where his friends from among the local traditional Chinese medicine circle had immediately put him under their care.

Thanks to a liquid that these friends concocted for him with a number of traditional Chinese medicines, the only thing that he has eaten or drunk so far, Chen is now walking around.

"I am feeling better every day," he said

But it might take six to 12 months for Chen to completely recover, said Li Xian, vice-director of the Yaan People's Hospital, who was in charge of examining Chen during the much-profiled his 49 days without food.

At the end of the fast on Friday afternoon, Chen had lost 20 kilograms. Although he could still think logically and suffered no damage to his nervous system, heart, lungs or digestive system, his muscular atrophy, erosion of subcutaneous fat and loss of skin elasticity had all reached an alarming degree.
Today's Top News
Top China News

Chechen rebel bomb kills president, 13 others




Wen leaves Italy, arrives in London




Xi'an lotto saga takes another twist




`Cancer village' in spotlight




Researcher: Sweat may transmit SARS virus




Consumption up during long holiday