Asia pop stars sing Golden Melody
(Agencies)
Updated: 2004-05-09 11:10
The big stars in the Chinese-language pop music world picked up trophies at Taiwan's 15th annual Golden Melody Awards, with Jay Chou of Taiwan winning the best album award and Hong Kong diva Faye Wong getting the prize for best female artist.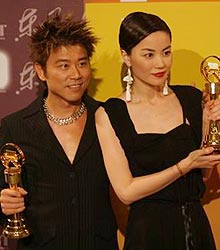 Hong Kong pop diva Faye Wong and Taiwan veteran singer Sky Wu show their "best artist" awards. [soho.com]

No single performer dominated Saturday's ceremony -- a major Chinese music event that also draws talent from Singapore and Malaysia.

One of the surprises of the evening was the best male artist award, which went to Taiwan's Sky Wu, who hasn't won a Golden Melody award since he was named the best newcomer in 1990.

"In the past 15 years, I've been nominated seven times and I finally got you," Wu said as he admired his trophy for his work on "Pianist of Love."

The ceremony's theme was "Asia is No. 1," and guest singers from across the region performed, including Thai pop star Tata Young, South Korean singer BOA and Malaysian songstress Siti Nurhaliza.

Chou's album "Yeh Hui-mei," named after his mother, was nominated in eight categories. Some thought the singer, who melds R&B with hip-hop, could have repeated his sweep of 2002 when he walked away with awards for best album, songwriter and producer.

But Taiwan's Wang Lee Hom beat Chou in the best producer category for his "Unbelievable" album.

"Music is my life so thank you everybody for recognizing my life," Wang said as he picked up his trophy.

The prize for best songwriting went to Taiwan's Song Yueh-ting for his song "Life's a Struggle" from the album of the same title.

Best female artist Wong was also nominated in eight categories for her album "Under the Flower Tree." In the best singer category, she was up against Singapore's Tanya Chua, Taiwan's Jolin, and Fish Leong and Penny Tai, both from Malaysia.

The Hong Kong songstress kept her acceptance speech short. "I can sing songs. This I know," Wong said. "Now that Golden Melody judges have given me their approval, I approve of their approval."

Taiwan's May Day was named best rock band. The group's singer, Ah-Hsin, yelled "Long live rock and roll!" as the band members collected their prize for "Time Machine." Another band member, Ma Shah-tseh, announced to the crowd that the musicians weren't wearing any underwear.

The award for the best vocal group went to Taiwan's Ah-Pao and Brandy for "Ah-Pao and Brandy," and the best new artist was Singapore's J.J. Lin for his album "The Musician."
Today's Top News
Top Life News

Statistics show China's steel sector still red hot




Beijing: HK LegCo motions against NPC illegal




China, EU hold talks over trade compensation




Cause of recent SARS epidemic still unclear




PM Wen sees Sino-Italian ties bear fruit




More bad news may be on the way for Bush