China's steel sector still red hot
By Liu Haoting (Business Weekly)
Updated: 2004-05-09 10:22
Overinvestment continued to plague China's steel sector during the first quarter, despite measures by the central government to chill the red-hot industry, said top officials from the China Iron and Steel Association (CISA).
"Overinvestment in the steel industry was not solved in the first quarter," said Luo Bingsheng, CISA's executive vice-chairman.
"We must pay great attention to it."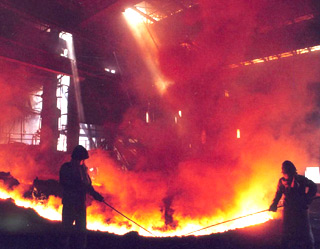 IT'S HOT: Workers at an iron and steel company in Panzhihua, Sichuan Province concentrate on their routine job.

Fixed-asset investment in the steel industry amounted to 33.5 billion yuan (US$4.04 billion) in the year's first quarter, up 107.2 per cent over the same period of last year, indicate figures from the National Development and Reform Commission (NDRC).

Steel output capacity grew by 16.03 million tons during the period, CISA said.

China produced 67.26 million tons of steel products in the first three months, up 29.47 per cent from the same period of last year, indicate CISA's statistics.

CISA predicts China will produce 277 million tons of steel products this year.

Overheated investment will result in massive overcapacity within the steel industry, suggest experts and government officials. NDRC predicts China's annual steel production ca pacity will reach 330 million tons by 2005, if all the steel factories and projects currently under construction are finished.

However, actual domestic demand will not reach 330 million tons until 2010, NDRC said.

Several central government departments - including economic planning, banking and land management - have taken steps to curb the rapidly increasing investments.

NDRC, for example, is not allowing steel companies to undertake new construction projects.

The People's Bank of China, the nation's central bank, has raised bank reserve requirements twice this year.

The China Banking Regulatory Commission has sent inspectors to seven provinces - Guangdong, Zhejiang, Henan, Hebei, Hubei, Jiangxi and Jiangsu - to examine banks' loans to steel companies since last year.

The China Securities Regulatory Commission has begun strictly supervising listed steel firms' financing channels.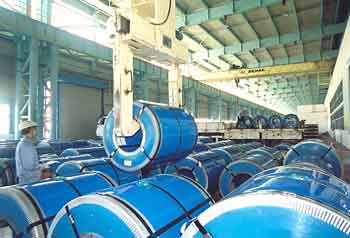 A workshop of an iron and steel company in Ningbo, east China's Zhejiang Province. [newsphoto]

The Ministry of Land and Resources has begun investigating suspected illegal trades in local real estate markets.

"We can expect to feel the effects of these measures in the second half of this year," said Qi Xiangdong, CISA's vice-secretary-general and chairman of the Metallurgical Price Association of China.

"In fact, some planned large-scale projects within the steel industry have been stopped due to the stricter approval procedures. What drove up investments in the first quarter were ongoing projects, which were approved in 2002 or in the first half of 2003.

"The instalment of equipment has started and cannot be abruptly called off."

When asked about the impacts of the central government's macro policies on steel enterprises, Luo said they will greatly affect smaller enterprises, but not large-scale corporations.

"Many large-scale steel companies are building modern production lines to produce technology-intensive and high value-added steel products," Luo said.

"This is good and necessary for the industry's healthy growth.

"We should not adopt one-size-fits-all policies. The target is blind investment in redundant, low-level production capacity, which contributes to pollution and wastes resources."

Many steel makers agree.

"For Baosteel, China's largest steel maker, securing a safe industry chain - stable source of raw materials and purchasers - is much more important than blind investment in getting land," Wu Dongying, head of Shanghai Baosteel Group Corp's strategy research department, was quoted by Shanghai Securities News as saying.

China's 66 key steel companies reaped 19.96 billion yuan (US$2.4 billion) in profits in the year's first quarter, up 126.12 per cent over the same period of last year, indicate CISA's statistics.

China imported 10.078 million tons of steel products during the period, up 17.49 per cent year-on-year. But the growth rate fell 57.2 percentage points compared with the first quarter of last year.

Qi attributed that phenomenon to soaring international steel prices during the quarter.

The average steel plate price in China, for example, was about 800 yuan (US$96.40) per ton less than the average international price.

The international steel price index average for the year's first three months rose 36.52 per cent. The price index average in China, meanwhile, rose 13.68 per cent.

During the first quarter, China exported 1.62 million tons of steel products, up 6.72 per cent year-on-year.
Today's Top News
Top China News

Chechen president killed in explosion




Wen leaves Italy, arrives in London




Doctor faces new challenge after fast




Pollution control far from satisfactory




China's steel sector still red hot




China, EU hold talks over trade compensation