Bush says Palestinian state by 2005 not 'realistic'
(Agencies)
Updated: 2004-05-09 08:52
U.S. President Bush said on Saturday a 2005 target for a Palestinian state was unrealistic but the United States was committed to a "road map" for peace backed by the international community.
Bush's comments in an Egyptian newspaper interview riled Palestinian leaders, who said the 2005 deadline was realistic if talks with Israel were accelerated.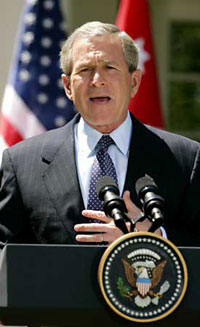 US President George W. Bush speaks to the press with Jordan's King Abdullah in the Rose Garden of the White House May 6. [Reuters]

Bush told the al-Ahram daily in an interview published on Saturday: "I readily concede the date has slipped some.

"I think the timetable of 2005 is not as realistic as it was two years ago. Nevertheless, I do think we ought to push hard as fast as possible to get a state in place."

The comments came amid new anger in the Arab world over the U.S. role in Iraq, as details emerged of the abuse of Iraqi prisoners by Americans, and accusations Washington's Middle East policy is slanted toward Israel.

Bush told the semi-official Egyptian daily that it "may be hard" to achieve the 2005 target due to Israeli-Palestinian violence and the collapse of Palestinian Prime Minister Mahmoud Abbas's reformist government last year.

But he added the United States was committed to the road map and he would make this clear in a letter to Palestinian Prime Minister Ahmed Qurie, who replaced Abbas late last year.

The road map charts reciprocal steps toward the establishment of a viable Palestinian state in the West Bank and Gaza Strip in 2005, including demands the Palestinians halt militant violence and Israel freeze settlement construction.

But the peace plan ground into deadlock shortly after it was adopted last year due to persistent violence and non-compliance on both sides.

ARAFAT AND QURIE WANT STATE BY 2005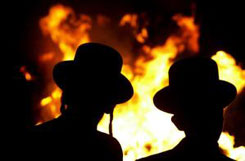 Israeli Ultra-Orthodox Jews gather around a bonfire during Lag Ba'Omer celebrations in Jerusalem's Mea Shearim neighborhood, May 8, 2004. Bonfires are lit during Lag Ba'Omer celebrations to commemorate the end of a plague said to have decimated Jews in Roman times. [AP]

Rejecting Bush's view, Palestinian President Yasser Arafat said the creation of a state by 2005 was "more than realistic," while Qurie called for stepped up peace negotiations with Israel to meet next year's deadline.

"Losing time does not serve the peace process nor the stability of this region. Therefore we think 2005 leaves adequate time for serious negotiations (for a state)," Qurie told reporters in the West Bank city of Ramallah.

Qurie is scheduled to meet Bush's top security advisor Condoleezza Rice in Germany in mid-May for what would be his highest-level session with U.S. officials since taking office in late 2003. He said on Friday he would use the talks to urge the United States to revive the road map after Israeli Prime Minister Ariel Sharon's unilateral "Disengagement Plan" to withdraw from the Gaza Strip was voted down by his Likud party on Sunday.

Sharon's aides have said the prime minister will still push ahead with the initiative, which has won firm U.S. backing.

Palestinians fear Sharon's plan is a ruse to annex large tracts of West Bank land they want for their state. Israel captured the West Bank and Gaza in the 1967 Middle East war.

Bush enraged the Arab world by announcing during an April 14 White House meeting with Sharon that Israel could not be expected to vacate all its large West Bank settlements or re-admit Palestinian refugees under any final treaty.

In an effort to reassure Arab allies, he told Jordan's King Abdullah in a letter that Washington would do nothing to prejudice final-status talks between the Middle East foes and said he would expand dialogue with Palestinians.

Meanwhile, Arab League foreign ministers met in Cairo to organize an Arab summit that was delayed when the Tunisian government unilaterally postponed the meeting in late March. It is expected to be rescheduled for May 22 and 23 in Tunis.
Today's Top News
Top World News

Cause of recent SARS epidemic still unclear




PM Wen sees Sino-Italian ties bear fruit




Beijing: HK LegCo motions against NPC illegal




Committee to promote Sino-Italian ties




More bad news may be on the way for Bush




Hu calls for new-type Sino-Japanese ties