Yu Quan:the most popular duo in Chinese Mainland
(CCTV.com)
Updated: 2004-05-08 15:08
The List will focus on the most popular pop duo in the Chinese mainland, Yu Quan. Since their emergence in the late 1990s, they've picked up the best pop duo honor every year. Well aware of the enthusiasm of their vast fan base, the boys are preparing to show their gratitude.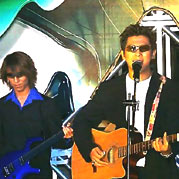 Chen Yufan and Hu Haiquan, pop duo, said, "Hi, everybody. We're having a concert in Beijing on May 15. Hope you can make the scene!"
May 15 will be a red-letter day for Yu Quan fans. Right now Chen Yufan and Hu Haiquan are busy promoting the hotly-anticipated concert.
Since the beginning of the year, Beijing has greeted a string of veteran heavyweights. In sharp contrast with the dominating nostalgia, Yu Quan means to stage a huge gala and make passionate connections with their fans during the upcoming concert. Besides their trademark tunes, the duo will showcase their light rock and roll style. If their concerts in Shanghai and Tianjin are anything to go by, the Beijing event is sure to be another booming success.
Firmly established as a duo, Chen Yufan and Hu Haiquan are going to try something new at the concert.
Since their debut in 1999, Yu Quan have maintained a healthy image. Their diversified styles in four albums have won numerous fans, old and young. It was once widely rumored that the duo would break up. But the fast friends never failed to appear in public together.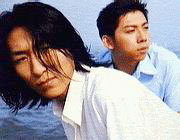 Yu Fan said, "There's been no change in our attitude towards music. We still value our friendship and partnership as much as ever. And we are filled with hope. We don't have time to consider splitting up in the next decade or two."
A common notion of music and brotherhood are at the root of Yu Quan's success. At their concert in May, the guys are sure to overwhelm fans with their music and enthusiasm once again.
Today's Top News
Top Life News

SARS could spread via coughs, sweat, urine




Economy sees signs of cooling down




Chinese students rush to join air force




Follow Marco Polo's footprints, says Wen




Rumsfeld apologizes for Iraq prison abuse




China to diversify foreign exchange reserves