52 millon friends see off "Friends"
(Agencies)
Updated: 2004-05-08 08:45
Well, the Friends finale was definitely no Seinfeld. There were more hugs and fewer viewers.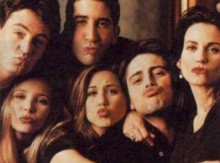 NBC reprots that 52.5 million ol' softies watched Ross and Rachel tearily reunite, Monica and Chandler tearily welcome twins and Joey and Phoebe tearily turn in their apartment keys on the top-rated NBC sitcom's Thursday-night farewell. (This helpful recap for TiVo users, who didn't quite catch the last goodbyes--more on that snafu later.)
While 52 million-plus is a whole lot of people--the episode is now the second most-watched broadcast this season behind January's breast-baring Super Bowl--it's about 25 million less than caught television's last great sitcom sayonara, Seinfeld's decidedly antisentimental May 1998 finale.
In its ratings release Friday, Fox helpfully pointed out that the Friends farewell fell 33 percent below Seinfeld's in total viewers (back when early estimates said 51.1 million tuned in) and 37 percent below in the 18-to-49 demographic. Not that Fox had much to brag about--it ran last on the night with a Cops repeat.
Friends did help drop CBS' CSI to the hit drama's lowest numbers in more than two years.
Likewise, a Friends retrospective, which preceded the finale in the 8-9 p.m. hour, dropped CBS' Survivor: All-Stars to that show's worst numbers of the season.
The Friends clip package was watched by an estimated 35.9 million, which Fox would like you to know is down 39 percent from a similar retrospective that preceded the last Seinfeld.
The last Seinfeld, it's worth pointing out even if Fox won't, aired six years and about 600 fewer entertainment options ago. Even Seinfeld was no Cheers, which was seen off by 93.1 million in 1993, and it was certainly no M*A*S*H, whose farewell was watched by a whopping 106 million in 1983.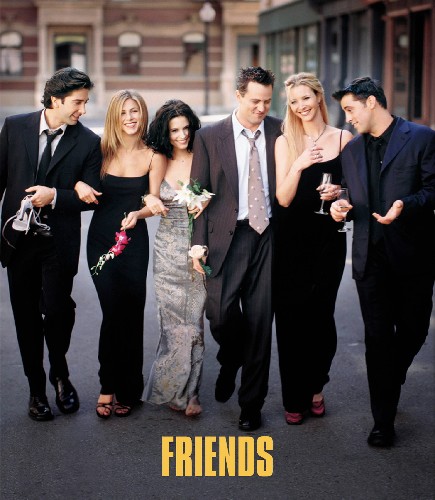 The final episode of M*A*S*H remains TV's all-time most-watched show. Friends' goodbye matches up with the likes of the Beatles' third appearance on the Ed Sullivan Show (59.3 million in 1964).
Even if Friends didn't break any records, it still helped NBC break the bank. Viewership for the finale, which clocked in at one hour and six minutes, was about what NBC and media experts were expecting when the Peacock decided to charge advertisers up the wazoo for commercials that aired during the swan song. For the record, a wazoo these days goes for approximately $2 million per 30-second spot.
For their cash, companies like General Motors and General Electric got to show off their wares on the broadest of stages. Megasized Friends viewing parties were held from coast (New York's Pier 25) to coast (Los Angeles' Universal CityWalk).
Reports of fan weeping were rampant. "I definitely laughed out loud and even shed a tear or two," went one damp post on the alt.tv.friends newsgroup.
Reports of steamed TiVo subscribers were also common. "Doesn't NBC realize that their 'super-sized' episodes screw up our TiVos!" went one raging post on the same newsgroup.
As the message noted, TiVo users' beloved replay format wasn't expecting the final Friends to run a leisurely 66 minutes. The know-it-all video system banked on the show going an hour, as announced, and, hence, failed to capture the entire episode.
TV critics, who aren't supposed to TiVo things of such importance as sitcom farewells, kept their quibbles about the finale to artistic grounds.
In the Fort Worth Star-Telegram, Ken Parish Perkins graded the finale a "B," calling the episode "more touching than comical, more satisfying in terms of closure than knee-slappingly funny."
Similarly, Newsday's Noel Holston declared the Rachel and Ross show "sweet and dumb and satisfying" (and, yes, "over-long and padded").
Salon.com's Heather Havrilesky sounded more immune to the heart tugging. "Something about the sappy, 'I'll be there for yooou!'-style weight of it all made the whole exercise feel like self-parody," she wrote.
The Friends themselves were soft touches. Appearing on the Central Perk set for a taping of NBC's Tonight Show, with-child Courteney Cox told host Jay Leno she cried the most during a finale viewing party. Said onscreen husband Matthew Perry: "It was emotional."
Maybe the stars would have been better prepared had they merely read online gossip sites, such as Defamer.com and Popbitch, which spilled the goods days ago on the supposedly under-wraps final episode.
Among the highlights nailed by the sites: Ross and Rachel play telephone and airport tag before finally--finally!--deciding people as flaky as themselves belong together; Chandler and Monica watch their surrogate mom give birth to a boy (whom they named Jack) and then--surprise!--a girl (whom they named Erica); Phoebe and Mike engage in wink-wink talk about having their own kids; and, Joey makes goo-goo eyes at a baby duck and chick, en route to his own spinoff series.
The episode, titled "The Last One" and due out on DVD on Tuesday, was the last of 236.
Premiering on NBC on Sept. 22, 1994, Friends never ranked lower than fifth place in the season-end rankings. Despite commercial and critical success, it never won the Emmy for Outstanding Comedy Series until 2002.
And at the Warner Bros. studio lot in Burbank, California, where the show was filmed for the last decade, it will never go away. On Thursday, stage 24 was renamed--what else?--"The Friends Stage."
Today's Top News
Top Life News

Cause of recent SARS epidemic still unclear




PM Wen sees Sino-Italian ties bear fruit




Beijing: HK LegCo motions against NPC illegal




Committee to promote Sino-Italian ties




More bad news may be on the way for Bush




Hu calls for new-type Sino-Japanese ties