Bush apologizes, says Rumsfeld will stay
(Agencies)
Updated: 2004-05-07 09:27
US President Bush, struggling to control a growing crisis, apologized Thursday for the abuse of Iraqi prisoners by American soldiers and called it "a stain on our country's honor." He rejected calls for Defense Secretary Donald Rumsfeld's resignation but complained about Rumsfeld's handling of the controversy.
"He'll stay in my Cabinet," Bush declared, a day after White House officials spread word that the president was upset at the secretary for not alerting him about damaging pictures. Some Republicans on Capitol Hill privately questioned whether Rumsfeld could survive and were angry that he had not shared information with them.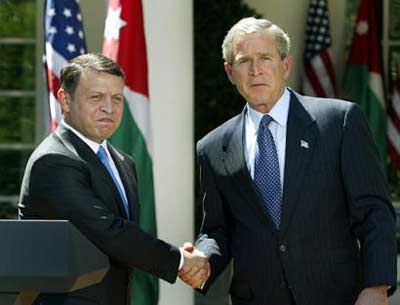 US President Bush and King Abdullah II of Jordan, left, shake hands after holding a joint news conference, Thursday, May 6, 2004, in the Rose Garden of the White House. [AP]
Sen. Tom Harkin of Iowa stepped forward to call for Rumsfeld's head. House Democratic Leader Nancy Pelosi and other Democrats joined in.
"For the good of our country, the safety of our troops, and our image around the globe Secretary Rumsfeld should resign," Harkin said. "If he does not resign forthwith, the president should fire him."
Democratic presidential candidate John Kerry also pushed for Rumsfeld's ouster. "It's the way it was handled," Kerry said. "The lack of information to the Congress, the lack of information to the country, not managing it, not dealing with it, recognizing it as an issue."
With the reputation and credibility of the United States on the line, the controversy was inflamed by graphic new pictures. One showed a naked man on a concrete cellblock floor, his neck in a leash held by a female American GI. Another showed a naked prisoner handcuffed to a bed with women's underwear over his head. The photos were published by The Washington Post.
Usually loath to acknowledge mistakes or to apologize, Bush spoke up in the Rose Garden after meeting with Jordan's King Abdullah II.
"I told him I was sorry for the humiliation suffered by the Iraqi prisoners and the humiliation suffered by their families," the president said. "I told him I was equally sorry that people who have been seeing those pictures didn't understand the true nature and heart of America."
"I assured him Americans like me didn't appreciate what we saw," Bush said, "that it made us sick to our stomachs."
Facing re-election and anxious to limit the damage to his administration, Bush promised anew that "we'll find out the truth. We'll take a good look at the whole system to determine ¡ª to make sure that this doesn't happened again."
Struggling for words, he said, "But I am ¡ª I am ¡ª I am sickened by what I saw and sickened that somebody gets the wrong impression of people who are serving this country and this world with such dignity."
Bush readily acknowledged that America's reputation had been damaged. "It's a stain on our country's honor and our country's reputation. I fully understand that. And that's why it's important that justice be done."
Attorney General John Ashcroft said the Justice Department was ready to prosecute any civilians or former military personnel suspected of criminal conduct.
Rumsfeld canceled a planned speaking engagement in Philadelphia so he could huddle in the Pentagon with top aides to prepare to testify Friday before Senate and House committees. Gen. Richard Myers, chairman of the Joint Chiefs of Staff, returned early from a European trip to get ready for the appearance with Rumsfeld.
Sen. Evan Bayh, D-Ind., an Armed Services Committee member, reserved judgment about Rumsfeld until the hearing. Calling for the resignation now "reminds me of what they said in the old West ¡ª first they give the accused a fair hearing and then they hang him," Bayh said. "I want to wait and see what he has to say."
Sen. John McCain, R-Ariz., said it was premature to talk about Rumsfeld's resigning. "We need everybody to just take a deep breath and get all the facts," he said. Sen. John Warner, R-Va., chairman of the Armed Services Committee, said that "at this point in time I do not have any loss of confidence in Secretary Rumsfeld."
Bush said Rumsfeld "is a really good secretary of defense. Secretary Rumsfeld has served our nation well. Secretary Rumsfeld has been the secretary during two wars. He's an important part of my Cabinet and he'll stay in my Cabinet."
White House aides privately said they had not intended to trigger resignation calls by spreading the word Wednesday that Bush was unhappy with Rumsfeld. They suggested it had been a political and diplomatic maneuver rather than a signal that Rumsfeld's job was in trouble.
Rumsfeld remained behind closed doors, and aides declined to comment on matters such as how much Rumsfeld knew about the prisoner abuses before the graphic photographs were broadcast and published around the world last week. Also in question was exactly when Rumsfeld informed Bush of the extent of the abuse.
Bush said he told Rumsfeld on Wednesday that, "I should have known about the pictures and the report" done by the Pentagon before they turned up in news reports.
In contrast to his precarious position now, Rumsfeld was the subject just a few weeks ago of widespread speculation that he would remain defense chief if Bush were re-elected. Although he has had a rocky relationship with Congress since taking office in January 2001, Rumsfeld was riding a wave of public popularity after the Sept. 11, 2001 terrorist attacks and the swift defeat of the Taliban government in Afghanistan.
Deputy Secretary of State Richard Armitage predicted in an interview with CNN that Rumsfeld would weather the crisis.
"The only call that really matters is the one the president makes, and he has expressed full confidence in Secretary Rumsfeld," Armitage said.
Today's Top News
Top World News

Sino-EU partnership advances to new level




300 out of SARS quarantine in Beijing, Anhui




Bush apologizes, says Rumsfeld will stay




Hu: Growth hurdles 'need our attention'




Trapped holidaymakers rescued from island




Bin Laden said to offer gold for killings