Wen ends German visit, arrives in Brussels
(China Daily)
Updated: 2004-05-06 08:50
Premier Wen Jiabao yesterday concluded his three-day official visit to Germany after securing a series of co-operation agreements in various fields.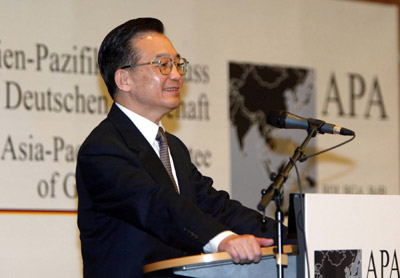 Visiting Chinese Premier Wen Jiabao addresses members of the Asia-Pacific Committee of German Business in Berlin May 4, 2004. Wen was on his three-day official visit to Germany. [Xinhua]


Wen arrived in Brussels yesterday morning (Beijing time) and met with Javier Solana, Secretary General of the Council of the European Union and High Representative for Common Foreign and Security Policy, in the evening.

During his meetings in Berlin, German President Johannes Rau on Tuesday told the visiting Chinese premier that China is one of the European nation's important partners and that Germany adheres to the one-China policy.

Rau underlined China's achievements since it adopted reform and opening-up policies more than 20 years ago and recognized its constructive role in dealing with international affairs, such as the Korean Peninsula nuclear issue.

In a joint statement issued following their talks, Premier Wen and German Chancellor Gerhard Schroeder said relations between the two countries are sound and that both nations agree on numerous important international issues.

In a meeting with Wolfgang Thierse, president of the German Bundestag (lower chamber of the German parliament), Wen said exchanges between China's National People's Congress and the German parliament are an important part of Sino-German relations.

In a speech at the gathering of the Asia-Pacific Committee of German Business, Wen said bilateral trade between China and Germany is gaining momentum as China has a vast market and plenty of cheap but comparatively high-quality labour and Germany boasts advanced technologies and equipment.

Germany is China's largest trading and technology co-operation partner in Europe while China is Germany's biggest trading partner in Asia, Wen said. The bilateral trade volume grew to US$41.8 billion last year.

When answering questions about possible overheating of the Chinese economy, Wen admitted that fixed assets in the real estate, steel, cement, and electrolytic aluminium sectors had grown a bit too quickly.

To cool down the overheated sectors, Wen said his government will continue to adopt decisive and vigorous macro-economic control measures to seek solutions to specific problems.

As it stands, China is using economic and legal leverage with the necessary administrative measures and is controlling investment and land use, said the premier.

"It would help prevent more damage if the bubbles were burst at an early stage," Wen said.

"We can maintain economic development at a stable and comparatively fast speed through macro-economic control measures, which would help stabilize the economy of Asia as well as of the world," said the premier.

Heinrich von Pierer, chairman of the Asia-Pacific Committee of German Business, said China's strategy to develop its Western regions and rejuvenate its industrial base in the northeastern provinces and the holding of the Olympic Games in 2008 and the World Expo in 2010 in Shanghai will provide opportunities for German companies.

Germany will encourage its business firms to increase their participation in China's development of the western regions and in the economic revitalization of its northeastern regions, the chairman added.

The Chinese premier also attended the third session of the China-Germany High-tech Dialogue Forum in Berlin on Tuesday.
Today's Top News
Top China News

U.S. reveals Iraqi prisoner deaths as scandal grows




Dr Sun's grandson in history call to young




SARS patient discharged from hospital




Greece starts 100-day sprint as Games loom




Sino-German co-operation hailed




Sewage spill causes massive fish losses