Israeli troops block entrance to Arafat's HQ
(Agencies)
Updated: 2004-05-04 13:53
Israeli military jeeps sealed off the entrances to Palestinian leader Yasser Arafat's headquarters in the West Bank town of Ramallah, a Palestinian official said.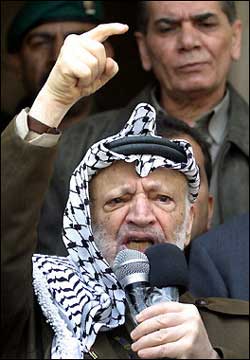 Palestinian leader Yasser Arafat addresses supporters during a rally outside his office at the Muqataa compound in the West Bank city of Ramallah. [AFP]

"The soldiers, travelling in 15 jeeps, approached the president's HQ and blocked the three entrances to the building," said Arafat advisor Nabil Abu Rudeina.

He expressed the fear that the move was "in preparation for an attack on the president," without giving any details.

Israeli military sources said that the troops were conducting "routine arrests" in Ramallah.

"These operations have nothing to do with Yasser Arafat's headquarters, which we have no intention of entering," a military source said.

Last month Israeli Prime Minister Ariel Sharon issued a threat against Arafat.

"I promised (US) President George W. Bush three years ago not to attack Arafat, but I am no longer bound by that promise, and (Arafat) no longer has immunity," Sharon said then.

His threat provoked a wave of protest worldwide.

The United States swiftly warned Sharon to keep his promise not to harm the Palestinian leader.

Israel's Deputy Prime Minister Ehud Olmert and two other ministers then denied there were any plans to target Arafat.
Today's Top News
Top World News

Henan using traditional medicines to fight AIDS




Germany adheres to 'one China' policy




Funds for poor areas to surge this year




Basic Law distortion led NPC to step in




3 engineers killed in car bomb in Pakistan




U.S. troops reprimanded for prison abuses