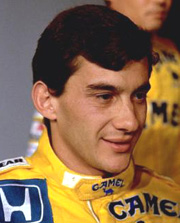 Leonardo remembers the night he met Ayrton Senna, 10 years ago this week. Brazil's footballers were in Paris to play a friendly match at the Parc des Princes as part of their preparation for that summer's World Cup in the USA. A cheerful and relaxed Senna, wearing a grey sweater and black trousers, received an ovation from the hundreds of flag-waving Brazilians in the crowd as he kicked off the match before retreating to the grandstand.
"It was the year he hoped to become world champion for the fourth time," Leonardo said in Italy this week, "and it was the same with our team. 'This is our year,' he told us." Within a fortnight Senna was lying on the track at Imola, mortally wounded. And three months later, when the footballers won their fourth title in Pasadena, they gathered in the centre of the pitch and held up a banner bearing his name.
This week, a few days before the race that will mark the 10th anniversary of Senna's death, most of the 1994 Brazil squad pulled on the gold-and-green shirts again in commemoration of their compatriot. At the little ground in Forli, a few miles from Imola, they played a match against the formula one drivers' team. All 7,000 grandstand seats were sold and hundreds of local children were allowed to sit on the banked cycle track encircling the pitch as Leonardo, Dunga, Claudio Taffarel, Jorginho, Aldair and the rest took on Michael Schumacher, Rubens Barrichello, Fernando Alonso, Jarno Trulli and others.
"Senna was very, very important to Brazilians, and he still is," Leonardo said, hoisting his small daughter on to his shoulders as he left the pitch wearing Barrichello's black-and-white chequered shirt. "We remember the way he carried our flag around the track every time he won a race. And when I was introduced to him that night, I felt like I was meeting someone I already knew very well."
But Senna's appeal radiated far beyond Brazil, and the match was a prelude to a weekend in which he has once again become the most talked-about figure in formula one. Ten years after his death, his absence has never been more obvious.
In the short term, his death exerted an extraordinary effect on the sport's popularity. As if sucked into the vacuum, new adherents quadrupled the TV audience over the next eight years, stirred by the reminder that grand prix racing is a world in which the young and glamorous deliberately court danger. Now, after the recent downturn, a troubled sport prays for the emergence of someone with his combination of aggression and refinement, of brutality and subtlety, of ego-driven ambition and an almost feline grace.
Michael Schumacher is certainly not the answer, for all his record-setting six championships (to Senna's three) and 73 grand prix victories (to Senna's 41). By comparison, the German is a two-dimensional figure whose ruthlessness and supreme skill are not accompanied by a sense of intellectual or spiritual quest. This weekend, too, Schumacher is a somewhat equivocal figure, since it was he, at the wheel of a car long suspected of benefitting from illegal driver aids, who was hounding Senna when the Brazilian lost control at 190mph.
"It was my first experience of death in the sport I most love," Schumacher said, careful also to acknowledge the accident, the day before Senna's, that took the life of the Austrian driver Roland Ratzenberger. "At least we have seen a lot of action in terms of safety happening since that day. It doesn't really justify it, but at least we can see something positive out of it."
Up and down the Imola paddock the famous figures of today and yesterday - including those, such as Juan Pablo Montoya and Fernando Alonso, to whom he was a boyhood hero - are being asked questions about the meaning of Senna's life and death. About why, in fact, Ayrton Senna still matters so much, and why a man who habitually bullied opponents out of the way and was not above double-crossing his own team-mates has been transformed into a figure of almost angelic innocence.
Arguments still rage, not least over the cause of the fatal crash. Damon Hill, Senna's team-mate, expressing his opinion on the subject for the first time outside a courtroom, blames a driver error. Jo Ramirez, for many years Senna's best friend in the paddock, calls that "the biggest bullshit I've ever read". Bernie Ecclestone suggests that if he had lived, all those race wins and titles would not have one Schumacher's way. Meanwhile workmen are ordered to obliterate a message painted by fans earlier this week on the fatal wall at Tamburello, reading " Ayrton sempre numero 1, il piu grande " - Ayrton always No1, the greatest - because it might distract the drivers in tomorrow's race.
Nice or not, something about Senna drew people to grand prix racing. On the inside of the concrete wall near the place where he died, behind a row of saplings and recently installed wire fencing, loving messages from his fans are slowly fading with the years. But the memory of Senna remains in sharp focus, a reminder of a time when Michael Schumacher could be beaten and grand prix racing still seemed larger than life.
note:


ovation: 热烈欢迎
kick off: 中场开球
grandstand: 正面看台


Imola: 圣马力诺伊莫拉赛道
Pasadena: 帕萨迪纳
pitch: 足球场

compatriot: 同胞
cycle track: 自行车赛道

grand prix: 大奖赛
downturn: 低迷时期

paddock: 赛车场
bullshit: 胡说

sapling: 小树苗

sharp focus: 强聚焦