Google IPO sets stage for Web search war
(Agencies)
Updated: 2004-04-30 09:50
Google's Inc.'s long-awaited plan to go public threatens to turn the battle for Web search supremacy into an all-out war, analysts said on Thursday, even as smaller search companies said there was a chance for everyone to prosper.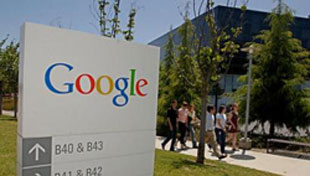 Google Inc. employees leave a meeting at Google headquarters (in background) in Mountain View, Calif., Thursday, April 29, 2004 after a company meeting about their IPO. Internet search engine leader Google Inc. filed its long-awaited IPO plans Thursday, setting the stage for the company to make its stock market debut, a move that could be months away. [AP]


Singling out Yahoo Inc.and Microsoft Corp. as their primary competitors, Google founders Larry Page and Sergey Brin set the stage for a showdown reminiscent of the brutal browser wars of the late 1990s that sidelined Netscape, analysts said.

The question is whether Google, despite heady growth that more than doubled revenue to nearly a billion dollars in 2003, can challenge the financial clout of its larger peers. Yahoo had $1.6 billion in revenue and Microsoft had $32.2 billion in revenue in its latest fiscal year.

Also in question is whether Google can retain its unconventional and highly successful business approach even as it faces the same disclosure requirements and shareholder expectations of its rivals, said Forrester Research Inc. analyst Charlene Li.

When Yahoo went public seven years ago, its founders also promised a new type of company. Today, while Jerry Yang and David Filo still have their imprint on the Sunnyvale, California company, Yahoo is more conventionally run under Chief Executive Terry Semel, Li said.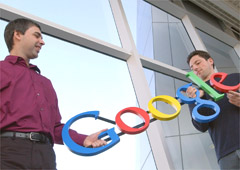 Google co-founders Larry Page (L) and Sergey Brin are seen at their company's headquarters on Jan. 15 in Mountain View, Calif. [AP]

Yahoo, an early Web search pioneer that also has a 5 percent stake in Google, formerly used Google technology but has since broken off and bought online advertising provider Overture to compete against its former partner.

"As the leading destination on the Web, Yahoo is focused on continuing to build the most compelling network of products and services for our growing base of over 270 million consumers and for our advertisers," said Yahoo spokesman Chris Castro.

Redmond Washington-based Microsoft, meanwhile, is busy preparing its own new search engine due out this fall that it hopes will help unseat Google and integrate search more deeply into computing and the Web.

"If anything, the more research we do, the more we're convinced that the market is truly in its infancy," said Lisa Gurry, lead product manager at Microsoft's MSN division.

GOOD VS. EVIL?

Mountain View, California-based Google has vowed to "do no evil" as its business takes on Microsoft, only now emerging from the legal troubles surrounding its use of its monopoly on operating software.

Google, MSN and Yahoo each offer search services, Web-based e-mail and even a browser toolbar.

According to a recent Forrester Research survey, half of online consumers who use Google most frequently for search also go to Yahoo on a daily or weekly basis. Yet only a quarter of frequent Yahoo users go to Google.

Where Google has excelled thus far, according to analysts, is by luring Web surfers with top-notch search results and selling sections of those Web pages to advertisers.

Google, which performed an estimated 35 percent of U.S. Internet searches in February, also faces competition from traditional media.

While the major combatants slug it out, smaller search companies were celebrating on the sidelines.

Google's bountiful growth -- its profit surged to $64 million in the first quarter from $25.8 million a year earlier year -- shows that the market is growing fast enough to accommodate many players, some observers said.

Spending on advertising linked to keyword Web searches in the United States is expected to rise 25 percent to $3.2 billion this year, according to market research firm eMarketer.

"It's great for the industry because it will bring more attention to search," said Steve Berkowitz, the Chief Executive of Ask Jeeves Inc., a smaller search company.

"I think it will give people a much better view into the size of the market."
Today's Top News
Top World News

Wen's top challenge is development deckhead




Photos show US soldiers tortured Iraqis




Beijing confirms 2 SARS patients




Consumers angry over bank card tricks




Holiday to see 90m travellers




Korean nuclear issue centre of discussions