Ex-nurse pleads guilty in patient deaths
(Agencies)
Updated: 2004-04-30 09:22
A former nurse who claimed to have killed as many as 40 patients by giving them lethal doses of intravenous drugs pleaded guilty Thursday to 13 murders in a deal that will spare him from the death penalty.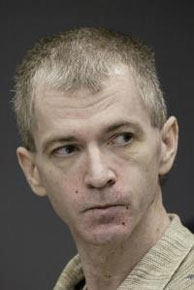 Former nurse Charles Cullen looks toward the prosecution during a hearing at the Somerset County Courthouse Thursday, April 29, 2004, in Somerville, N.J. Cullen pleaded guilty Thursday to murdering 13 patients and attempting to kill two others at hospitals as part of a deal with prosecutors to spare his own life. [AP]

Charles Cullen, 44, also admitted to two attempted murders and agreed to plead guilty to a 1998 murder in Easton, Pa.

He will also cooperate with authorities as they try to uncover other crimes he may have committed between 1984, when he entered nursing school, and his arrest last Dec. 12.

In an hourlong court hearing Thursday, Cullen wore a bulletproof vest under his sport shirt. He showed little emotion and uttered few words beyond saying "Yes, your honor," and giving the names of the drugs he used in the 13 murders and two attempts ¡ª all last year at Somerset Medical Center.

He spoke up twice to correct defense lawyer Johnnie Mask, once to clarify that one crime was an attempted murder and not a murder, and once to say a victim was a man, not a woman.

Authorities said they will question Cullen about suspicious deaths in the nine hospitals and one nursing home where he worked over his 16-year career. Authorities would not speculate on how many deaths Cullen may have been responsible for altogether, but New Jersey Attorney General Peter Harvey said that the 40 Cullen claimed after his arrest were not impossible.

Cullen agreed to plead guilty to all the murders he committed, and prosecutors in New Jersey and Pennsylvania expect more guilty pleas in both states.

He is to be sentenced eventually to multiple life sentences in each state and, according to the plea deal, will serve prison time in New Jersey.

In exchange for Cullen's help, prosecutors agreed not to seek the death penalty against him for any murders in five counties in New Jersey and two in Pennsylvania.

New Jersey authorities said he would not be eligible for parole for 127 1/2 years. That sentence would be served consecutively with a Pennsylvania sentence, in which he would not be eligible for parole.

Once Cullen is sentenced, Harvey said, he would then be asked to help administrative agencies figure out how to prevent crimes like the ones he committed in the future.

"We need to use Mr. Cullen and we need to debrief him to find out how he was able to accomplish what he accomplished," Harvey said.

Relatives of Cullen's victims and their lawyers crowded the courtroom Thursday. Several family members cried during the proceeding.

Cristina Toth, the daughter of Ottomar Schramm, whom Cullen says he killed in Pennsylvania in 1998, said Thursday's hearing upset her.

"I am angrier because all this time I thought he was crazy," Toth said. "Seeing him today and hearing him, I don't think that he is crazy."

Janette Hardgrove, the wife of 38-year-old victim Christopher Hardgrove, said she was disappointed that Cullen didn't more fully detail his motives during the one-hour hearing.

"Why?" she asked following the hearing. "I'd like to know why."
Today's Top News
Top World News

Wen's top challenge is development deckhead




Beijing confirms 2 SARS patients




Consumers angry over bank card tricks




Holiday to see 90m travellers




Korean nuclear issue centre of discussions




Leaders held responsible for accidents