Washington's World War II memorial opens to public
(Agencies)
Updated: 2004-04-30 08:55
A controversial World War II memorial in the center of Washington opened on Thursday to the public, drawing crowds of veterans and schoolchildren.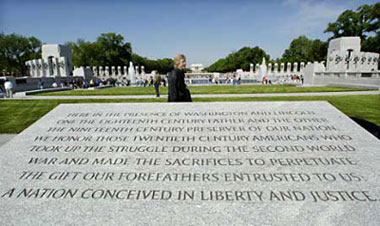 A woman walks past a stone plaque after the National World War Two Memorial was opened to the public in Washington April 29, 2004. [Reuters]

The visitors walked among the neoclassical pillars of the monument, which was criticized from the start for cluttering the National Mall -- a grass-covered strip of land in the center of the capital.

"I'm glad to be alive to see it," said 81-year-old veteran, Harold McAuliff, who suffered hearing loss after listening to Morse code on earphones during the war.

He and his wife, Bette, have traveled around the world but were coming to Washington for the first time to celebrate their 58th wedding anniversary. The other many monuments in the city did not mean as much to him, he said.

"I'm not associated with any of the other ones (memorials), just this," said McAuliff, who lives in Florida.

Three Filipino veterans stood proudly under the pillar at the memorial engraved with "Philippines." There is a pillar for each of the 56 states and territories that existed at the time of the war and the District of Columbia.

For Joaquin Tejada, 81, his visit to the memorial was a bittersweet experience. He is one of about 8,000 Filipino veterans in the United States still fighting for full benefits including disability rights, explained Eric Lachica, a Washington-based advocate working on their behalf.

The monument, whose construction began in September 2001, held little historical or political significance for many of the schoolchildren visiting it in the Spring sunshine.

Erika Howard, 11, on a trip from North Carolina, said she just found out her grandfather was a veteran.

World War II veteran Don Hassin, 84, of Clearwater, Florida, said the monument was long overdue.

"I think it's about time. We've had the Vietnamese (memorial) and all the others," he said.

Behind him stood a wall of about 4,000 stars each representing 100 deaths, the total American casualties. It stood above a basin of water where people had thrown coins and a dogtag.
Today's Top News
Top World News

Wen's top challenge is development deckhead




Beijing confirms 2 SARS patients




Consumers angry over bank card tricks




Holiday to see 90m travellers




Korean nuclear issue centre of discussions




Leaders held responsible for accidents