Bush, Cheney take 9/11 questions for 3+ hours
(Agencies)
Updated: 2004-04-30 08:41
U.S. President Bush said he and Vice President Dick Cheney answered every question on Thursday from the panel investigating the Sept. 11 attacks and denied their joint appearance was aimed at keeping their story straight.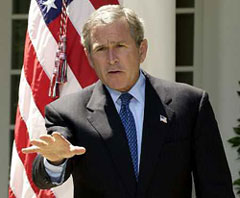 U.S. President George W. Bush speaks to the press corps in the Rose Garden of the White House after meeting with the 9-11 April 29, 2004. Bush said he and Vice President Dick Cheney answered all the questions from commission during an extraordinary session of more than three hours. [Reuters]

In comments afterward in the White House Rose Garden, Bush declared the extraordinary, three-hour-and-10-minute session a success that he hoped would lead to recommendations about how to guard against future attacks because "we are still vulnerable to attack."

He dismissed criticism from Democrats that he wanted to appear together with Cheney so they would not contradict each other.

"Look, if we had something to hide we wouldn't have met with them in the first place. We answered all their questions. As I say, I came away good about the session because I wanted them to know how I set strategy, how we run the White House, how we deal with threats," Bush said.

The president had only agreed to meet the commission under pressure from victims' families and the panel, and only on condition he have Cheney at his side and they meet in private, with no recording of the session. They were not under oath.

Against a backdrop of a presidential campaign year and amid fears that al Qaeda operatives are planning a new attack in the United States, Bush and Cheney gathered with the five Republicans and five Democrats on the commission in the very heart of presidential power, the Oval Office.

Bush and Cheney were seated on chairs by the fireplace, and commission members were scattered on couches and chairs. Their talks went back to the transition period between the departing Clinton White House and the incoming Bush team.

A commission source said the meeting turned up some new information for the panel. "We learned a lot," the source said without elaborating. "There was quite a bit we hadn't known."

The White House, reluctant to provide details, acknowledged one area of questioning was related to Bush's response to an Aug. 6, 2001, presidential intelligence memo entitled "Bin Ladin Determined to Strike In US" that Bush released under pressure from the commission on April 10.

The memo said al Qaeda members were in the United States before the Sept. 11, 2001, commercial airliner attacks and that the FBI had detected suspicious patterns of activity "consistent with preparations for hijackings or other types of attacks."

Bush has said the memo's usefulness was limited because it did not point to a specific target, a position he maintained.

Former counterterrorism chief Richard Clarke has said Bush did not heed his warnings that al Qaeda was an urgent threat.

Cheney was asked about some of his actions on Sept. 11 itself, when he made decisions from a White House bunker while Bush was on Air Force One, unable to return to Washington.

The commission issued a statement that said Bush and Cheney had been "forthcoming and candid" and their input would be of great assistance as it works to complete a final report.

Two Democrats on the panel, Vice Chairman Lee Hamilton and former U.S. Sen. Bob Kerrey of Nebraska, left the session about an hour early.

Hamilton, a former congressman from Indiana, left to introduce visiting Canadian Prime Minister Paul Martin at a lunch. Kerrey left to meet New Mexico Republican Sen. Pete Domenici.

Both Republican and Democratic members came away impressed after the questioning. Democrat Timothy Roemer told CNN the panel asked "very tough questions, very respectful questions" and received "very direct and cooperative answers from the president and vice president."

A Republican commissioner, former Illinois Gov. Jim Thompson, said that 95 percent of the questions were directed at Bush and that there were no adversarial moments.

Bush, he said by telephone, "was cool, he was passionate, he answered every question, he was knowledgeable and he was very much in charge."

Thompson said he believed it was helpful to have Bush and Cheney together, and that occasionally Bush would ask Cheney to comment if he had a different view, "but that was rare."

Bush's advisers are worried the commission's findings will be critical of the president, who is running for re-election in November on his record of fighting terrorism.

It also came to light separately on Thursday that the head of the U.S.-led coalition in Iraq, Paul Bremer, warned six months before Sept. 11 that the Bush administration seemed to be paying no attention to the terrorism problem and appeared to "stagger along" on the issue.

Bremer, who in 1999 chaired a national commission on terrorism, gave a speech on Feb. 26, 2001, in which he said the "general terrorist threat" was increasing.

"The new administration seems to be paying no attention to the problem of terrorism," Bremer said. "What they will do is stagger along until there's a major incident and then suddenly say, 'Oh, my God, shouldn't we be organized to deal with this?"'

The 9/11 panel is working to complete its final report by July 26.
Today's Top News
Top World News

Wen's top challenge is development deckhead




Beijing confirms 2 SARS patients




Consumers angry over bank card tricks




Holiday to see 90m travellers




Korean nuclear issue centre of discussions




Leaders held responsible for accidents