10 US soldiers killed in spate of attacks
(Agencies)
Updated: 2004-04-29 22:36
Ten U.S. soldiers were killed in attacks around Baghdad on Thursday, eight of them in a car bomb explosion just south of the capital.
The deaths took to 534 the number of U.S. soldiers killed in action since U.S.-led forces invaded Iraq 13 months ago. About 125 of them have been killed in April, the bloodiest month for U.S. forces in Iraq since the invasion.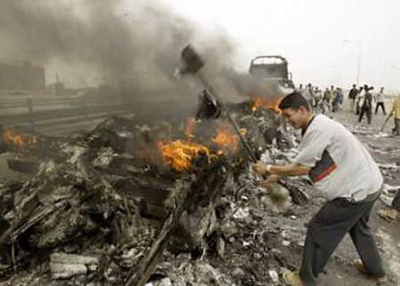 An Iraqi man beats a blazing oil tanker which was fired on by insurgents while traveling in a U.S. military convoy through Baghdad, Iraq on April 29, 2004. [Reuters]
The car bomb went off just south of Baghdad near Mahmudia at about 11:30 a.m., the U.S. military said in a statement.
"Initial reports indicate that eight U.S. soldiers were killed and four were wounded," it said.
The soldiers were all from the 1st Armored Division and the wounded were flown to a Baghdad military hospital by helicopter, it added.
Shortly before dawn, a U.S. soldier was killed in a rocket-propelled grenade attack in eastern Baghdad, a separate statement said.
At around 10 a.m., a roadside bomb killed a U.S. soldier and wounded another in the town of Baquba, 40 miles north of Baghdad. Iraqi police said an Iraqi civilian was also killed in the attack.
With just weeks to go before the United States hands over sovereignty to Iraqis on June 30, U.S.-led forces face a growing insurgency.
New polls showed Iraqi civilian deaths combined with heavy U.S. losses this month have eroded support for President Bush's war plan both among Iraqis and among the Americans who will vote on his re-election in November.

Today's Top News
Top World News

Wen's top challenge is development deckhead




Beijing confirms 2 SARS patients




Consumers angry over bank card tricks




Holiday to see 90m travellers




Korean nuclear issue centre of discussions




Leaders held responsible for accidents