Thai troops sent south to quell Muslim unrest
(Agencies)
Updated: 2004-04-29 15:05
Troops fanned out across southern Thailand on Thursday to restore order after a day of carnage in which security forces shot dead 107 Muslim militants and the army said it faced thousands more insurgents.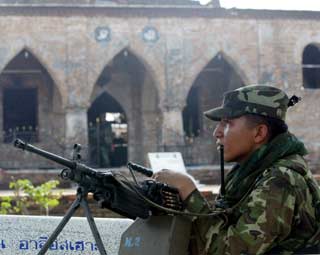 A Thai soldier stands guard outside a mosque in Thailand's largely Muslim province of Pattani, 1,150 km (718 miles) south of Bangkok on April 28, 2004. [Reuters]


Army chiefs ordered two extra battalions of soldiers into the three southernmost provinces as the predominantly Buddhist "Land of Smiles" digested what newspapers described as one of the bloodiest days in Thailand's modern history.

Prime Minister Thaksin Shinawatra said 107 "bandits" and five soldiers and police died in the fighting, which started when gangs of black-robed young men, some wearing Islamic slogans, launched dawn attacks on around 15 army and police posts.

The reports of suicidal attackers and pictures of the bloody corpses of lightly armed men splashed across front pages have sparked concerns a Muslim separatist rebellion that rocked the region in the 1970s and 1980s has returned with a vengeance.

"I would say the military phase has just started," General Pallop Pinmanee, who presided over a bloody shootout at a mosque in the provincial town of Pattani, told Bangkok radio.

"Our current estimate is that the strength of their armed men and recruits is in the thousands," he said.

Analysts fear international militant networks, such as Osama bin Laden (news - web sites)'s al Qaeda, might find a fertile recruiting ground among the impoverished region's disaffected Muslim youth.

Critics were quick to question the insistence of Thaksin and his cousin, army chief General Chaiyasidh Shinawatra, that drugs and crime rather than religious or separatist ideology lay at the root of the violence.

"What the two leaders do not see, or pretend not to see, is that this is not about addiction or banditry; this is about a fanatical ideology that none of us knew existed on such a grand scale," the Nation newspaper said in a front page editorial.

MOSQUE CLEAN-UP

In the mosque shootout, troops fired teargas and stormed the centuries-old building, killing 34 gunmen holed up inside. An angry crowd gathered to watch as soldiers dragged their bodies from the bullet-riddled building.

Thailand's top Muslim cleric, speaking on national television, backed the operation.

"The authorities exercised reasonable restraint in dealing with the situation. They were patient and waited for a long time outside the mosque," said Thai Muslim spiritual leader Sawat Sumalayasak.

"It was reasonable for the government to take such action."

As Bangkok pledged money to repair the damage to the centuries-old building, shocked residents took stock of what had happened.

"Some people thought this was an over-reaction by the authorities because they believed the people inside the mosque were about to surrender," said Uma Meah, secretary of the Central Islamic Committee of Pattani, after a meeting of residents.

"If the officers had waited for another couple of days they could have caught them alive, but they didn't. They killed them all."

Others echoed the view of the prime minister.

"Allah has punished these bad guys. We hope peace and prosperity will return," said 75-year-old Haji Nisen Nilae, the mosque's caretaker for the last four decades.

A middle-aged Muslim lawyer, who declined to be identified, said authorities in the predominantly Buddhist state had ridden roughshod over Islamic sensibilities.

"Soldiers and police killing Muslims in the mosque is not good," he said. "The mosque is a holy place for Muslims, just as the temple is a sacred place for Buddhists."

One of Thaksin's security advisers said the attacks could have been coordinated by separatists.

"The incidents were pulled together by separatist movements and gangs of drug dealers and contraband smugglers," Lieutenant-General Kitti Ratanachaya told Bangkok television.

The region is a hotbed of crime, feeding off a lucrative cross-border smuggling trade with neighboring Malaysia.

Analysts say that does not explain why so many of Wednesday's attackers were young, Muslim and appeared ready to die.

Authorities appealed for calm as a debate over whether the administration's 'get tough' policy adopted after a spate of violence erupted in January is the right way to win over a local population with few ties to the mainly Buddhist country.
Today's Top News
Top World News

SARS expert: Holiday travel in China is safe




Illegal land use sinks iron project




112 die in Thailand's quash of militants




Taiwan court sets May 10 for vote recount




Senator brands Cheney 'lead chickenhawk'




Reform on officials' car use in the offing