Colombia backhoe crush kills 23, hurts 36
(Agencies)
Updated: 2004-04-29 14:45
A construction crew's backhoe tumbled down a hillside onto a school bus on the highway below in Colombia, killing 21 children and two adults and injuring 36 others, officials said.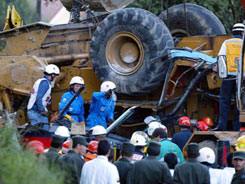 Rescue workers and emergency personnel work the scene of a school bus accident in Bogota,Colombia, April 28, 2004. [AP]

The 45-ton earth mover was being driven along a section of road higher up the hill when it rolled off a ledge and plunged about 70 feet before crushing the bus on the highway below, said Claudia Cubillos, a spokeswoman for the Bogota Health Ministry, which oversees rescue efforts.

The bus was taking students from the Agustiniano school back to their homes in the capital's middle-class Suba district during the Wednesday afternoon rush hour.

About a hundred emergency workers and police used heavy machinery to try to clear the mangled wreckage and get to the children ¡ª ages 7 to 12 ¡ª trapped inside.

Police, meanwhile, struggled to keep back panicked families desperate to find out if their children were among the victims.

Laura Ortiz, a travel monitor at the Agustiniano school, said she was supposed to have ridden the bus but asked a friend to fill in because she got tied up in a meeting. She fears that her son was on board.

"I am looking for my son ... I don't know where he is right now," a tearful Ortiz told RCN television.

Bogota Mayor Luis Eduardo Garzon sped to the scene of the accident.

"It is profoundly painful. We are united behind the families and have asked the Attorney General's office to fully explain the causes of the accident," Garzon told reporters.

The bus driver survived unharmed, while the backhoe's driver was in critical condition.

Preliminary findings indicated the backhoe's brakes failed and the driver lost control of the vehicle, Police spokesman Sgt. Alberto Cantillo said.

It was the deadliest road accident in the capital's history. In 1997, 18 people were killed in a bus collision. On average, nearly 700 people die every year in traffic accidents in Bogota, though more than half of them are pedestrians.
Today's Top News
Top World News

New suspected SARS case; lab visitors warned




Illegal land use sinks iron project




112 die in Thailand's quash of militants




Taiwan court sets May 10 for vote recount




Senator brands Cheney 'lead chickenhawk'




Reform on officials' car use in the offing