Sharon sees opposing Gaza plan as 'affront'
(Agencies)
Updated: 2004-04-29 13:32
Raising the stakes on a Gaza withdrawal plan that has split his party, Israeli Prime Minister Ariel Sharon said on Thursday he viewed Israeli opposition to "disengaging" from the Palestinians as a personal affront.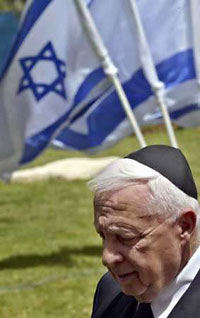 An interim legal report has found Israeli prosecutors lack enough evidence to charge Israeli Prime Minister Ariel Sharon in a bribery scandal that has threatened to topple him, a television station said on April 28, 2004. Sharon attends a ceremony for fallen soldiers at the Mount Herzl cemetery in Jerusalem on April 26. [Reuters]

"You cannot be for me but against the plan I am spearheading," the former general said in a pre-recorded interview broadcast on Army Radio as newspaper polls projected he could lose a key referendum by his ruling Likud party on Sunday.

"I will prevail. I do not even want to think about what the alternative would be," Sharon told Israel Radio in separate remarks directed at 193,000 Likud members who have been subjected to intense lobbying over his plan to uproot 21 Jewish settlements in Gaza.

Sharon stopped short of ultimatums, but Israel Radio's political correspondent said he may use a threat to resign his post as a "doomsday weapon" to sway Sunday's cliffhanger vote. Sharon's success in winning over party hawks hinges on U.S. President Bush's declaration earlier this month that, while quitting Gaza, Israel may keep some West Bank land and need not allow Palestinian refugees or their descendants to return to land or property now inside the Jewish state.

But the right-wing Likud shows little sign of abandoning its longstanding policy of holding on to "Greater Israel," including the occupied Palestinian territories -- especially as Sharon does not claim his plan would end the 3-1/2-year Palestinian revolt.

A poll in the leading daily Yedioth Aharonoth found that 47 percent of Likud members opposed Sharon's plan, 39 percent supported it, and 14 percent remained undecided.

CREDIBILITY CRISIS FOR PALESTINIANS

Palestinians see the Sharon plan as a bid to sideline them in diplomacy and cement Israel's hold on most of the West Bank, which it captured along with Gaza in the 1967 Middle East war. Palestinians want both territories for a future state.

In the Gaza Strip, a stronghold of the Islamist militant group Hamas, a booby-trapped bomb exploded outside the home of the Palestinian Authority's Gaza police chief early on Thursday, causing structural damage but no casualties. It was not clear who was responsible.

The State Department in Washington told U.S. citizens on Wednesday to leave Gaza immediately and to put off travel there and to Israel and the West Bank because "Hamas elements and other terrorist groups" had threatened revenge against U.S. interests after the Israel's killing of militant leaders.

Sharon's supporters fear his plan could be in trouble if militants who have organized suicide bombings in the Palestinian uprising that erupted in September 2000 escalate their attacks.

The embattled premier will have been cheered by a television report that an interim legal report had found Israeli prosecutors lack evidence to charge him in a bribery scandal.

The case centers on payments of hundreds of thousands of dollars by an Israeli land developer and Likud stalwart to Sharon's son Gilad, whom he hired as an adviser on a never-completed project to build a resort in Greece.

A focus for prosecutors was whether Sharon, then foreign minister, tried to help win Greek government approval for the enterprise, promoted by Likud kingmaker David Appel, now on trial on related bribery charges. Sharon denies any wrongdoing.

Israel's chief prosecutor had officially recommended bringing charges against Sharon. But Channel Two television said on Wednesday an advisory team had gone over the prosecutor's draft repeatedly and decided there was insufficient evidence. The Justice Ministry said a final decision was still pending.
Today's Top News
Top World News

SARS expert: Holiday travel in China is safe




Illegal land use sinks iron project




112 die in Thailand's quash of militants




Taiwan court sets May 10 for vote recount




Senator brands Cheney 'lead chickenhawk'




Reform on officials' car use in the offing