Japanese hold 'funeral' for chickens
(Agencies)
Updated: 2004-04-29 09:01
Dressed in a black suit and tie, a man asked the roomful of mourners to bow their heads. For a minute, they stood and faced the brightly lit altar in silence.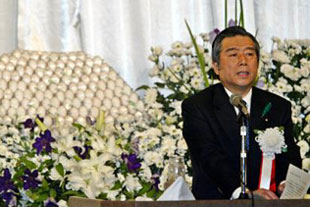 Yoshiyuki Kamei, Japanese minister of Agriculture, Fishery, and Forestry, speaks before an altar, made of white eggs in plastic cartons, for the chickens slaughtered during the recent bird flu outbreak in Japan at a memorial ceremony in Tokyo April 28, 2004. [AP]


On a stage, piled in a pyramid and surrounded by white daisies and lilies sat the dead: dozens of eggs in clear plastic cartons.

Arranged by the Agriculture Ministry and the poultry industry, Wednesday's solemn ceremony at a Tokyo hotel honored hundreds of thousands of chickens slaughtered since a deadly bird flu was discovered here in January.

"We want to express our regret to chickens for having to kill them, while also giving thanks to them for providing us with food," said Hideyuki Shimada, a director at the Japan Poultry Association. "I don't know how chickens feel about it, but humans should show appreciation."

The ceremony was nonreligious, though it featured an altar and flowers commonly found at religious funeral rites in Japan. Mostly, it demonstrated a quirky side to the Japanese fondness for rituals and marked what poultry producers hope will be a steady recovery in chicken and egg sales.

Since emerging late last year, avian influenza has ravaged flocks across Asia and killed at least 24 people in Viet Nam and Thailand. To stem the disease, authorities destroyed about 100 million chickens, ducks and other birds and temporarily quarantined farmers. No new infections have been reported for weeks.
Chiefs of the poultry industry observe a moment of silence for the souls of the chickens slaughtered during the recent bird flu outbreak in Japan at a memorial ceremony in Tokyo April 28, 2004. [AP]

Japan's outbreak was its first since 1925. After several poultry farms in western and southern Japan reported cases, the Agriculture Ministry ordered all farms in the area not to move their eggs and chickens and to monitor their flocks. Some 300,000 birds were destroyed.

While no humans fell ill in Japan, the bird flu outbreak ¡ª and the recall of thousands of eggs from supermarkets ¡ª spooked consumers and depressed chicken prices and sales. Schools banned poultry in lunches, despite assurances that it was safe to eat properly cooked meat and eggs of infected chickens. This month, the government pronounced Japan free of bird flu.

Wednesday's ceremony is an annual event for poultry farmers. Its origins are tied to a Buddhist funeral rite, known as "kuyou" in Japanese, that honors objects and animals. Rites for dolls, needles, shoes, cooking knives and, nowadays, even computers and pachinko "pinball" machines recognize the importance of the items in people's lives.

"The pile of eggs is our industry's altar," said Ikuo Sugita, head of the Oita Prefecture Poultry Association, located in one of three prefectures hit by the avian flu. "There were so many chickens that had to be sacrificed because of the bird flu. So a memorial service is extremely important."

There was nothing deliberately humorous about the chicken funeral services.

Over 200 officials and poultry producers observed a minute of silence and then bowed to the stack of eggs. They clapped politely when the agriculture minister promised tougher penalties for covering up infected flocks. They applauded officials who acted swiftly to contain bird flu. And most stayed for a panel discussion on winning back consumers.

And the event was promotional: poultry officials were passing out 6,000 eggs outside the hotel ¡ª even the ones from the altar.
Today's Top News
Top World News

Wen's top challenge is development deckhead




Beijing confirms 2 SARS patients




Consumers angry over bank card tricks




Holiday to see 90m travellers




Korean nuclear issue centre of discussions




Leaders held responsible for accidents