Brahimi says new leaders can be chosen in May
(Agencies)
Updated: 2004-04-28 13:45
U.N. envoy Lakhdar Brahimi said on Tuesday an interim Iraqi government could be chosen by the end of May despite the "extremely worrying" security situation in Falluja and elsewhere.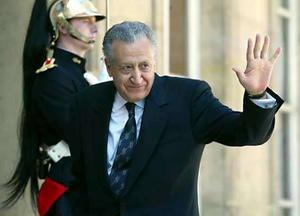 U.N. envoy Lakhdar Brahimi is seen upon arrival at the Elysee Palace for talks with French President Jacques Chirac, April 24. [Reuters]


Brahimi, a former Algerian foreign minister persuaded by the United States to help in the transition to Iraqi rule, laid out to the U.N. Security Council plans for a new government, due to take power on June 30.

"Though it will certainly not be easy, we do believe that it shall be possible to identify by the end of May a group of people respected and acceptable to Iraqis across the country, to form this caretaker government," Brahimi said.

The 15-nation council issued a statement welcoming Brahimi's "provisional ideas" for an interim Iraqi regime that would be made up of nonpartisan technocrats. He intends to return to Iraq shortly, the statement said.

But Brahimi warned about the "increase in violence up and down the country" and especially in the besieged city of Falluja.

"It is extremely worrying," he said. The U.S.-led coalition knew "better than everyone else that the consequences of such bloodshed could be dramatic and long-lasting."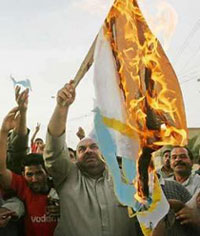 Iraqis burn a homemade flag with the design of their country's new flag in the besieged city of Falluja, April 27, 2004. [Reuters]

"Is it possible for the process to proceed under such circumstances? Will it be viable? Will it be credible?" Brahimi asked. "I put it to (the Security Council) that there is no alternative but to find a way of making the process viable and credible."

Brahimi made clear there were many powers the new government would not have until elections in January 2005. He said it should reach "crystal clear understandings" on sovereignty with the United States before June 30.

"You want 150,000 soldiers to disappear at midnight on the 30th of June? Those soldiers are going to be there," he told reporters later.

U.S. Secretary of State Colin Powell said on Monday the interim Iraqi government would have to give up some of its sovereignty to allow a free hand to U.S.-led armed forces.

And Washington's ambassador to the United Nations, John Negroponte, expected to be the new U.S. ambassador in Iraq after June 30, told reporters foreign forces had to control security because a transitional government would not be capable of doing so immediately.

NONPARTISAN GOVERNMENT

Brahimi has proposed that the current U.S.-selected Iraqi Governing Council be dissolved and an interim government made up of nonpartisan experts take its place until the elections.

He said the United Nations would "help" select the government, along with the U.S.-led Coalition Provisional Authority and the Governing Council.

But Brahimi said it was important that members of the caretaker government shunned partisanship. "It is best if the members of the caretaker government, including the interim president, vice presidents and prime minister, were to choose not to stand for elections," he said.

He proposed organizing a national conference in July of at least 1,000 people to draw Iraqis together. This conference would elect a "consultative council" to provide advice to the government and receive reports from ministers.

The United States is currently drawing up a Security Council resolution, expected to be circulated next month, that would bless an interim government.

The resolution is to approve a U.S.-led multinational force, part of which would be designated to protect U.N. staff, and outline the duties of a more robust U.N. mission in Iraq.

Some diplomats believe there may be problems with approving an interim government that will not control Iraqi security.

But Chile's U.N. Ambassador, Akram Munoz, said, "Everybody knows that there will have to be military forces on the ground for some time."
Today's Top News
Top World News

New suspected SARS case; lab visitors warned




Illegal land use sinks iron project




112 die in Thailand's quash of militants




Asia Pacific joins in epidemic fighting




Reform on officials' car use in the offing




New Oriental language school set to appeal