US warplanes hit insurgents in Fallujah
(Agencies)
Updated: 2004-04-28 08:50
U.S. warplanes and artillery attacked Sunni insurgents holed up in a slum in a thunderous show of force that rocked Fallujah Tuesday, sending huge plumes of black smoke into the night sky. The assault came after American troops killed 64 gunmen near the southern city of Najaf.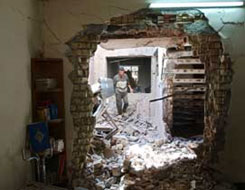 A Fallujah man looks through his home Tuesday April 27, 2004 after it was damaged in fighting on Monday. [AP]

An American soldier was killed Tuesday in Baghdad, raising the U.S. death toll for April to 115 ¡ª the same number lost during the invasion of Iraq that toppled Saddam Hussein last year. Up to 1,200 Iraqis also have been killed this month.

The second straight night of battles in Fallujah came as the extension of a fragile cease-fire ended in the turbulent city west of Baghdad. Marines have been preparing to begin patrols in the city later this week.

Tuesday's battle appeared far heavier than the previous night's clashes, in which a Marine and eight insurgents were killed ¡ª suggesting U.S. forces were trying to wear down gunmen in the Jolan neighborhood, a district of narrow alleyways and ramshackle houses.

An AC-130, a powerful gunship that can unleash a deluge of ordnance, joined 105mm howitzers in opening up on insurgent targets in the neighborhood. Gunfire and explosions reverberated for nearly two hours, and an eerie orange glow shone over the area while showers of sparks descended like fireworks.

Fires were visible in the Jolan neighborhood, and mosque loudspeakers elsewhere in the city called for firefighters. U.S. aircraft dropped white leaflets over Fallujah before nightfall, calling on insurgents to give up.

"Surrender, you are surrounded," the leaflets said. "If you are a terrorist, beware, because your last day was yesterday. In order to spare your life end your actions and surrender to coalition forces now. We are coming to arrest you."

Fighting also broke out in Baghdad and in the south, where U.S. forces are in a standoff with militiamen loyal to radical Shiite cleric Muqtada al-Sadr, who is wanted on murder charges for allegedly killing a fellow cleric.

U.S. forces killed 64 Iraqis on Monday and Tuesday in battles with militiamen outside the Shiite holy city of Najaf, Brig. Gen. Mark Kimmitt said.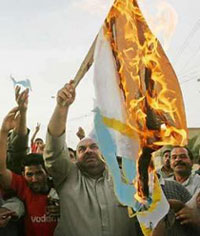 Iraqis burn a homemade flag with the design of their country's new flag in the besieged city of Falluja, April 27, 2004. U.N. senior adviser Lakhdar Brahimi warned Iraq's U.S.-led administration that an armed confrontation with insurgents in Falluja would lead to major bloodshed and long-lasting consequences. [Reuters]

The United States is trying to avoid a resurgence of the intense fighting ahead of June 30 ¡ª the date for installation of a new Iraqi government.

At the United Nations, U.N. envoy to Iraq Lakhdar Brahimi briefed the U.N. Security Council on plans for a caretaker government that would take over from the U.S.-picked Governing Council. He also warned that there would be a "very bloody confrontation" unless an agreement was reached to end fighting in Fallujah.

John Negroponte, who has been nominated as U.S. ambassador to Iraq, acknowledged Tuesday that the caretaker government would have limited powers because the Iraqi security forces were not yet strong enough. The United States would keep control of security forces, and the new government may not have the authority to pass laws, he told a Senate panel in Washington.

Several U.S.-allied Iraqi leaders demanded the government receive full sovereignty.

Mohsen Abdel-Hamid, a Sunni Arab on the Governing Council, said the prospect of the United States retaining some sovereignty is "not acceptable, this is totally rejected."

If the Americans do not respect agreements on giving complete sovereignty, "then the Iraqi people know what route to take," he said.

Two nights of battles in Fallujah have strained U.S. attempts to find a political way out of the siege of the city, avoiding a resumption of the full-fledged fighting that killed hundreds of Iraqis in early April. At least eight Marines have died in the fighting.

U.S. Defense Secretary Donald Rumsfeld told reporters at the Pentagon on Tuesday that continuing negotiations in Fallujah was "worth the try."

"I think that realistically if you've got some very tough people in a city that are terrorists ... that you have to expect that they're not going to be terribly cooperative," he said. "Now, does that mean that something can't be worked out? No." Joint patrols by Marines and Iraqis are a key part of the political effort, aiming to restore a semblance of control in Fallujah. Marines began training Iraqi security forces on Tuesday for the patrols, practicing in an industrial zone on the southern side of the city held by U.S. forces.

South of Baghdad, U.S. troops battled militiamen loyal al-Sadr on the east side of the Euphrates River, outside the cities of Najaf and Kufa.

The first fight came in the afternoon, when Shiite militiamen fired on a U.S. patrol. In the ensuing firefight, seven insurgents were killed. Hours later, an M1 tank was attacked with rocket-propelled grenades. A heavy battle erupted, during which warplanes destroyed an anti-aircraft gun belonging to the militia and 57 gunmen were killed, Kimmitt said.

Najaf hospitals listed 37 dead, all young men of fighting age, suggesting they may have been militiamen. Al-Sadr aides said civilians also died, but could not say how many.

The fighting came as U.S. troops are trying to hike up the pressure on al-Sadr. A force of 200 U.S. troops moved into a base in Najaf to replace Spanish troops. The Americans have said they will avoid the Shiite holy shrines about three miles away in the heart of Najaf.

Fewer al-Sadr fighters were seen Tuesday on the streets of Najaf and nearby Kufa, where they have been digging in over the past week against a possible American attack.

Some 2,000 U.S. troops are deployed outside Najaf, the holiest Shiite city in Iraq. Any action that brings the possibility of harm to the Imam Ali Shrine in Najaf could turn the limited al-Sadr revolt into a widespread uprising by Iraq's Shiite majority.

In other developments Tuesday:

_ A Red Cross team visited Saddam Hussein to see his conditions in U.S. custody, the second such visit by the aid agency since Saddam was detained in December. Wednesday is Saddam's 67th birthday.

_ A defense official said authorities were investigating whether a U.S. team looking for weapons of mass destruction was lured into a trap in Baghdad when a building they were searching exploded Monday, killing two Americans.

_ In Madrid, Prime Minister Jose Luis Rodriguez Zapatero said Spain has completed its troop withdrawal. "We should not have gone to Iraq. Therefore, we had to return as soon as possible," he said to applause in Parliament.

_ British Prime Minister Tony Blair said Britain has no plans to send more forces to Iraq. Britain now has 7,500 troops in Iraq, the second-largest force after the United States.
Today's Top News
Top World News

US embassy visa call centre closed for illegal operation




Disaster monitoring satellites to be launched




Intervention in HK issues rejected




Workplace accidents down, but more deaths




WHO teams fly in on SARS mission




Photographer asks for compensation