WHO teams fly in on SARS mission
(China Daily)
Updated: 2004-04-27 22:07
Sources with the Chinese Centre for Disease Prevention and Control said Tuesday that World Health Organization (WHO) teams have arrived in Beijing to help China address the SARS (severe acute respiratory syndrome) cases that occurred this month.
According to WHO spokesman Bob Dietz, four WHO teams were coming to China to assist in the investigation of several recent SARS cases.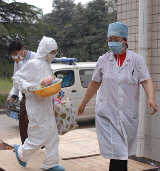 More than 20 people with close contact with a SARS patient, including five running a high fever, in Hefei, Anhui Province, are transferred to specialized hospitals for further medical observation April 25, 2004. [newsphoto]

The teams include one to investigate the laboratories at Chinese Centre for Disease Prevention and Control, one to help with the epidemiological investigations, one to help make sure infection control in hospitals is up to par, and the other to visit East China's Anhui Province, he said.

According to the Ministry of Health, China reported no new SARS cases or suspected cases in the 24 hours from 10 am Monday to 10 am Tuesday, but two people who had close contact with a SARS patient and are now under surveillance had reported fevers.

Twelve others were removed from medical observation Tuesday.

The SARS patient in Beijing, surnamed Li, has been in relatively stable condition and has reported a normal temperature for 11 straight days, the ministry said.

Beijing's five suspected SARS patients were in Ditan Hospital for treatment and examination.

A total of about 700 people are now under quarantine in Beijing, according to Wu Jiang with the Beijing Centre for Disease Prevention and Control.

Such an increased number is caused by people found to have been in contact with the confirmed SARS patient and those suspected of having SARS, and people who had contact with the two who now have fevers.

The patient in Anhui, surnamed Song, is continuing to recover though her mother who had tried to take care of her in hospital died in April 19 likely of multiple causes.

A total of 146 people have been found to have had contact with Song, among whom 36 people have been removed from medical observation.

In another development, preventive actions against SARS in Hong Kong were levied on Monday following the confirmation of the SARS cases in Chinese mainland.

Hong Kong's Secretary for Health, Welfare and Food Yeoh Eng-kiong called on relevant government departments to heighten their alert and preparedness in view of the notification of SARS cases in the Chinese mainland.

Meanwhile, the Health Department of Anhui has called on all laboratories to strengthen bio-safety and take effective measures to ensure the safety of laboratory workers.

The call came after the SARS patient in Anhui and one suspected SARS patient in Beijing were confirmed to have worked at the same laboratory in the institute of viral diseases under the Chinese Centre for Disease Prevention and Control.

Experts said the epidemic might have been caused by a laboratory infection, since the Anhui diagnosed SARS patient and one Beijing suspected SARS patient worked in the same laboratory in March.
Today's Top News
Top China News

Satellites to be launched for better disaster management




Intervention in HK issues rejected




Illegal visa call centre closed




WHO teams fly in on SARS mission




Underperformers shown the door




200 kids abducted in Yunnan