200 kids abducted in Yunnan
(Xinhua)
Updated: 2004-04-27 17:17
Almost 200 children had been abducted in Kunming, capital of Southwest China's Yunnan Province, CCTV reported Sunday.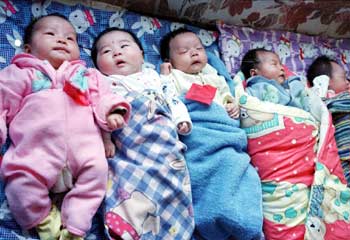 Most abducted babies are children of migrant workers. [newsphoto/file]
Most were children of migrant workers who lived in so-called city villages, or areas where migrant workers gathered, CCTV said.
The figures were obtained from Wang Xingpu, a migrant worker in Hufu village in Guandu District, Kunming. Wang had two sons and a daughter, but the boys were stolen from in front of his home October 1 last year.
While trying to find his boys, Wang collected the names of the children who were lost over the past three years. Wang collected nearly 200 names, all aged one to six years, and most of them boys. Most had lived in Guandu and Xishan, two districts in Kunming where city villages are found.
Many parents who have lost their children are spending the major part of their lives searching for the children, but few had been successful.
Kunming police rescued 18 abducted children in a three-month campaign last year. But they acknowledged that only a small number of the abducted children had been rescued because the criminals were often well organized and the children sold to far places.
Poor security in city villages is also to blame, police say. The city villages are hard to supervise because they have too many non-permanent residents.
Police told CCTV that Hufu village had migrants from 27 provinces, autonomous regions, and municipalities. There were about 60,000 migrants in the village, compared to its 800 permanent residents. Many migrant workers could not afford to send their children to kindergartens and were too busy to take care of them.
There are 60 to 70 city villages in Kunming where the public security situation has always been a headache for police.
Today's Top News
Top China News

US embassy visa call centre closed for illegal operation




Disaster monitoring satellites to be launched




Intervention in HK issues rejected




Workplace accidents down, but more deaths




WHO teams fly in on SARS mission




Photographer asks for compensation