US: Najaf battle kills 43 insurgents
(Agencies)
Updated: 2004-04-27 16:57
U.S. troops fought a gunbattle with insurgents overnight near the southern holy Shiite city of Najaf, killing 43 gunmen and destroying an anti-aircraft system belonging to the insurgents, the U.S. military in Baghdad said.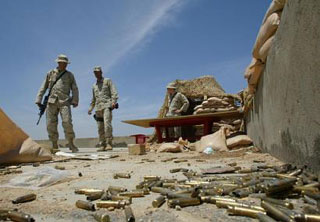 U.S. soldiers check out a gun position as they move in at the Coalition Provisional Authority office situated in base Golf, in Najaf, Iraq, April 26, 2004. The base has seen mortar fire regularly. [AP]

The fighting, which began Monday night and involved helicopter gunships, lasted several hours, a military spokesman said. No further details of the fighting or anti-aircraft system were given.

The battles came as around 200 U.S. forces made their first deployment inside Najaf, moving into a base that Spanish troops are vacating about five miles from the city's holy shrines near where a radical Shiite cleric is holed up.

U.S. commanders have said they will not move against the shrines in order to capture Muqtada al-Sadr, whose supporters have launched attacks against the U.S.-led forces.

Earlier Monday, U.S. troops came under a heavy insurgent attack in Fallujah a day after U.S. officials decided to extend a cease-fire rather than launch a full-scale offensive on that city. Eight suspected insurgents and one U.S. Marine were killed.

U.S. Marines battled Sunni guerrillas around a mosque in Fallujah's Jolan district, a poor neighborhood where insurgents are concentrated. U.S. helicopter gunships joined the battle, which sent heavy black smoke over the city. Tank fire demolished a minaret from which U.S. officials said gunmen were firing.

The U.S. troops met "a real nasty bunch," said Lt. Col. Brennan Byrne, commander of the U.S. military's 1st Battalion, 5th Marine Regiment. But he said the violence would not deter plans to begin joint U.S.-Iraq patrols in the city.

The patrols are a key part of the U.S. effort to establish a semblance of control over Fallujah without a wider Massault, which would revive the bloody warfare seen earlier this month. The United States decided to try the patrols after President Bush consulted with his commanders over the weekend, and the cease-fire was extended in part to allow for patrols to be organized.

The fighting in Fallujah was the latest violence to shake a two-week-old cease-fire. Still, U.S. officials said they wanted to press forward with a political track, a day after abruptly toning down threats to launch a full-out assault on the city.

"We will take the time necessary to see if there is not a political solution," Secretary of State Colin Power said Monday. "But as you saw today, when our soldiers and our Marines are attacked, they will respond and they will respond with force to protect themselves."

Meanwhile, a workshop in Baghdad, believed to be producing chemical munitions, exploded in flames moments after U.S. troops broke in to search it on Monday. Two American soldiers were killed and five wounded. Jubilant Iraqis swarmed over the Americans' charred Humvees, waving looted machine guns, a bandolier and a helmet.

U.S. Brig. Gen. Mark Kimmitt did not say what sort of chemical agents were suspected of being supplied to insurgents from the Baghdad warehouse. After the blast Monday, there was no sign of precautions against chemicals.

"Chemical munitions could mean any number of things," including smoke grenades, he said.

The cause of the blast was unclear. Kimmitt said a large number of explosives were in the building, located in the northern neighborhood of Waziriyah.

Asked about reports that the search team included members of the Iraq Survey Group ! the U.S. team looking for weapons of mass destruction ! Kimmitt said only: "The inspection was by a number of coalition forces."

He said the owner of the site was "suspected of producing and supplying chemical agents" to Iraqi insurgents, but did not elaborate.

The blast leveled the front half of the one-story building and set ablaze four U.S. Humvees parked outside. A U.S. soldier was taken away on a stretcher, her chest and face severely burned. Several Iraqis were pulled from the wreckage, including a woman who wept as she was carried over a man's shoulder to safety.

In Baghdad, Bremer heightened warnings about the reported stockpiling of weapons in "mosques, shrines and schools" in Najaf ! and his spokesman noted that such actions make the sites fair targets for military action.

"The coalition certainly will not tolerate this situation," Bremer said in a statement addressed to residents of Najaf. "The restoration of these holy places to calm places of worship must begin immediately."

Bremer's spokesman, Dan Senor, would not elaborate on steps the coalition was ready to take to do so. He noted that in the case of military action, "those places of worship are not protected under the Geneva Convention" if they are used to store weapons.

The deaths of the two soldiers in Baghdad and the Marine in Fallujah brought to 114 the number of U.S. troops killed in combat so far this month ! nearly as many as the 115 Americans killed during the invasion that toppled Saddam Hussein a year ago.

The Spanish base in Najaf is pockmarked with shells and shrapnel from earlier attacks. The golden domes of the Shiite shrines at Najaf's center ! a no-go zone for the Americans ! were visible from inside the compound. Spanish troops are due to leave within days, and the Americans moved in to ensure al-Sadr militiamen did not overrun the site.

The base, which houses Salvadoran and Spanish troops, is in the modern part of Najaf, an urban extension that melds with the neighboring city of Kufa.
Today's Top News
Top World News

Radiation control sought to ward off health hazards




NPC rules out universal suffrage for HK




200 kids abducted in Yunnan




Institute isolated for suspected lab infection




Zeng: Hegemony never on nation's agenda




Testimony: Japanese war chemicals did harm