Treacherous love online
By Yao Lan (Shanghai Star)
Updated: 2004-04-27 10:26
T was a feeling of emptiness that sent Xu Feng to prison.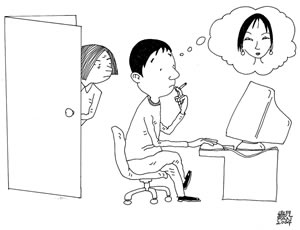 Recently, the Hongkou District People's Court gave the 28-year-old man a four-year jail term for robbing a woman. He had tricked her into drinking orange juice laced with sleeping pills.
"The case did not seem especially complicated, but it reflected some problems which need attention in our society," said Gu Qiong, spokeswoman from the court.
According to her, it was rare for people like Xu - with a higher educational background - to appear in court accused of such serious crimes.
Love trouble
Xu graduated from a local university and had been working in a clothing company in the city.
His crime may have been motivated by his conflict with his mother, who strongly opposed Xu's love for a young woman in Central China's Henan Province.
Xu met his girlfriend through online chat more than a year ago, yet the love turned into a major source of conflict between mother and son. The fact the young woman worked in Henan became a major concern for the mother.
However, Xu turned a deaf ear to his mother's words, and continued his relationship with his girlfriend thousands of miles away.
But the mother did not make any compromises when confronted by Xu's stubborn attitude, instead she attempted to confiscate her son's monthly income in order to terminate the relationship.
"I was afraid he would marry that woman, so I had to get hold of his banking card to prevent him withdrawing his monthly salary," the mother told the court.
To force Xu to end his relation with the woman, his mother rationed her son to around 300 yuan (US$36.30) a month, which was far from enough for a young office clerk in the city seeking to keep the wolf from the door.
Shi Jie, Xu's fellow worker, recalled that Xu often only ate biscuits for lunch because he had no money to buy a proper meal with his colleagues.
"I got along well with him," Shi told the police. "He was not talkative, instead he liked to sit in front of the computer surfing the Internet or playing games."
In his spare time, Xu told Shi about his dissatisfaction with his parents.
"He complained that his parents were too strict with him, and his salary was in his mother's hands," Shi recalled. "He said that his mother cared more about money than about him."
To make ends meet, Xu would borrow 100-200 yuan (US$12-24) from Shi and some other follow workers at the end of a month, paying it back when he received his allowance next month.
As the conflict with his mother gradually approached total deadlock, Xu moved out of the family home, renting a room in a shabby lilong (traditional neighbourhood).
"He would just come back every Saturday and have a bath, leaving his dirty clothes at home," said his mother. "The next following week he would pick up the laundered clothes."
One-night stand
Life seemed dull to Xu, and he indulged himself in the virtual community as an outlet. One day in November last year, Xu went online as usual, and found a woman with the nickname "Nightingale" who was looking for a one-night stand.
The woman had written a post entitled "looking for a lover", followed by the words: "Those without money please do not respond!"
Xu quickly responded to her, saying: "Money is not a problem, I will invite you to dinner."
"She said the price for a one-night stand should be between 500-700 yuan (US$60-US$84), and I asked her to name her price," Xu told the police. "She said 700 yuan."
Then the two arranged the deal, and exchanged mobile phone numbers in the online chatroom.
"Soon, he asked to meet me, and I turned down his request," said "Nightingale".
"About a week later, he sent me a short message and proposed an appointment, and we agreed to meet on the night of December 12 at a local hotel."
According to Xu, during the period when he was arranging his appointment with "Nightingale", he met another young woman through the Internet.
"We did nothing, and separated after I gave her 200 yuan (US$24.20)," he said.
Before the December 12 rendezvous, he bought a carton of orange juice and collected five or six sleeping pills.
"I did not want to pay for the one-night stand, in fact I wanted to steal her belongings," he said.
Police later found Xu's sleeping pills had been taken from his mother's refrigerator. His mother had long been in the habit of taking the pills to help her sleep.
"I usually took one eighth of a pill, but I found most of my pills had disappeared, with only two or three left in the bottle," Xu's mother said.
On the evening of November 12, Xu checked in at a hotel with a fake identity card which bore Xu's picture yet with all Shi's information printed on it.
When Shi was questioned by the police, he said he had purchased the fake ID card for 500 yuan (US$60.50) so Xu could sit examinations for him.
"He sat maths and statistics tests for me and passed," said Shi who had registered for study at the Shanghai TV University.
Before "Nightingale" entered the hotel room, Xu made a cup of orange juice and put the pills in, and then persuaded her to drink it.
When "Nightingale" awoke in the hotel the next morning, she found herself alone with her bag missing. The bag had contained an old mobile phone, 50 yuan (US$6.05) and some other personal things. Police quickly caught Xu, arresting him at his place of work.
"He said he did not think the crime was very serious," said Zhou Jun, the judge in charge of the case.
"However, his acts, from the preparation of the pills to stealing the woman's bag, constituted robbery - even if he did not realize it. People usually think of those who have attended universities as a social elite, yet these people also have weaknesses, and might confuse their lives with impulsive acts."
Today's Top News
Top Life News

NPC rules out universal suffrage for HK




Institute isolated for suspected lab infection




Zeng: Hegemony never on nation's agenda




Testimony: Japanese war chemicals did harm




300 infected with measles in Sichuan




Lottery row sends man from heaven to hell