Israel identifies new Hamas leader
(Agencies)
Updated: 2004-04-27 09:05
Mahmoud Zahar, a 53-year-old Egyptian-trained physician whose son was killed in an Israeli airstrike, was identified by Israel on Monday as the new Hamas leader in the Gaza Strip. Israeli officials signaled he won't be targeted for death if the militant group halts suicide attacks.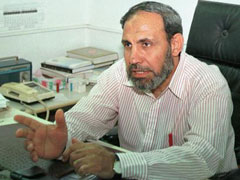 Spokesman for the Islamic group Hamas Mahmoud Zahar, speaks during an interview with Associated Press in Gaza City, Gaza Strip in this May 26, 1998 file photo. Mahmoud Zahar, a 53-year-old Egyptian-trained physician was identified by Israel Monday, April 26, 2004 as the new Hamas leader in the Gaza Strip. [AP]

Hamas, however, refused to reveal the name of its leader for fear he will be assassinated like his two predecessors.

Late Monday, two Palestinians were killed in an incident near the Mughazi refugee camp in central Gaza. Palestinian security officials said there was an explosion followed by machine gun fire. First reports said the two were killed when a rocket they were setting up exploded prematurely. The Israeli military said it had no forces in the area.

Also Monday, Israeli troops killed a 14-year-old Palestinian boy and seriously wounded a 15-year-old girl near Israeli settlements in Gaza. The girl, described as mentally retarded, had wandered into a restricted area.

The Palestinian attorney general said he would speed up prosecution of dozens of suspected collaborators with Israel and search for those who helped Israel kill Hamas leader Abdel Aziz Rantisi on April 17. Fifty-three alleged informers are in Palestinian custody awaiting trial.

Rantisi, the successor of Hamas founder Sheik Ahmed Yassin, himself assassinated by Israel, had taken extreme precautions, but Israel spotted him when he made a rare visit home and killed him in with a missile attack.

Hamas declared after Rantisi's death that it would not disclose the name of his replacement. However, speculation centered on Zahar ¡ª Rantisi's deputy, Yassin's personal physician and for years one of the most visible and uncompromising Hamas spokesmen.

Three Israeli newspapers on Monday identified Zahar as the group's new leader. Several days ago, Zahar told reporters Hamas would not disclose the name of the new leader but did not deny he had the title.

Israel's military chief, Lt. Gen. Moshe Yaalon, told the Yediot Ahronot daily the new Hamas leader had inherited the post "automatically" and reluctantly accepted the position. Yaalon also signaled Israel would avoid attacking him as long as the group remains quiet.

"He doesn't want it, and he is apparently avoiding making decisions, and he is apparently avoiding terrorism," Yaalon said. "Anyone who doesn't use terrorism against us, we do not deal with."

Yaalon did not identify the Hamas leader, but military officials said he was referring to Zahar. The officials said it is impossible to identify the leader with certainty because of Hamas' fluid leadership structure.

Zahar has escaped two Israeli attempts on his life, most recently in September when his eldest son and a bodyguard were killed. Zahar rejects any settlement with Israel and compromise with the Palestinian Authority.

In Washington, the CIA declined to comment on whether Zahar is the new Hamas leader.

In the Gaza violence, a 14-year-old boy was shot in the back by Israeli army fire and died, Palestinian medical workers said. The boy was among several youths who had climbed sand dunes to watch soldiers deployed around the Israeli settlement of Nissanit in northern Gaza.

Witnesses and Palestinian security officials said the boys were about 700 yards from an Israeli watchtower when the teen was killed.

Military officials said soldiers used non-lethal means to disperse stone throwers near a settlement and did not know about a boy who was shot.

Medical workers also said a 15-year-old, mentally handicapped girl was seriously wounded after approaching the Israeli settlement of Morag near the Rafah refugee camp in southern Gaza.

Military officials said soldiers saw a woman running toward the settlement in an area off-limits to Palestinians, assumed she was attacking the settlement and opened fire after she ignored calls to stop and warning shots. They said the settlement has been a frequent target of Palestinian militants.

Morag and the other 20 Jewish settlements in Gaza and Israeli military installations would be removed under Israeli Prime Minister Ariel Sharon's "unilateral disengagement" plan. However, Palestinians suspect Sharon's real agenda is to trade the small settlements in Gaza for a permanent hold on most of the West Bank, where 90 percent of Israeli settlers live.

In an interview Monday on the Al-Arabiya satellite TV channel, former Palestinian Prime Minister Mahmoud Abbas said the Palestinians should not cooperate with the Israeli withdrawal.

He also harshly criticized U.S. President Bush, who gave backing to the main points of Sharon's plan.

"America has now no credibility at all," Abbas said.

On Sunday, members of Sharon's Likud Party vote in a referendum on the withdrawal plan. Polls indicate that the outcome will be close.

Interviewed on Israel TV during an independence day broadcast Monday evening, Sharon was confident that by this time next year, "we will be in the midst of disengagement from Gaza. This is good for Israel, good for Israel's security, good for the economy and good for peace, which I believe will come one day."
Today's Top News
Top World News

NPC rules out universal suffrage for HK




Institute isolated for suspected lab infection




Zeng: Hegemony never on nation's agenda




Testimony: Japanese war chemicals did harm




300 infected with measles in Sichuan




Lottery row sends man from heaven to hell