Youth-asset or liability?
By Cao Shangyao (Shanghai Star)
Updated: 2004-04-27 08:56
A few years ago there were "beauty writers" who might be considered the sisters of "boy writers". These beauty writers made their names known through commercial operations. This tactic was easily adapted to practical application by a multitude of these boy writers who were born in the early 1980s.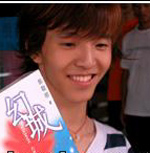 Guo Jingming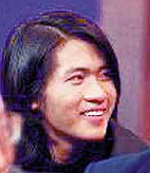 Han Han

They were more than willing to juggle their way to stardom in the same way showbiz celebrities had done. They gave much attention to their outward appearance. Han Han was handsome-looking, whereas Guo Jingming was looking lovely. The boy writers have gathered quite a following of fans, and there are websites devoted to them. The juvenile writers appear to be as attractive as showbiz stars.

Meanwhile, they set out to create sensational stories to catch people's attention. Sun Rui, author of "Grassy Years", offered a 100,000-yuan reward to challenge Han Han and Guo Jingming to a contest, and Chunshu wore a girdle while signing copies of his books. All such events were of the same character as those "love affairs" among showbiz stars. That is, they are designed to attract public attention.

Serious doubts have been raised about the literary quality of the juvenile writers' works ever since Yu Xiu published her book "Flowery Season, Rainy Season" which established the author's reputation. The book was a blockbuster, selling 1 million copies. For this Yu Xiu was seen as the first person to write youth literature in our time. But some critics responded with jeers, and even summed up the book in this way: "In crude language the book merely opens a window onto the life of high school students, and is completely lacking in aesthetic vision ..."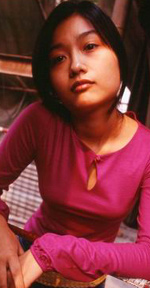 Chun Shu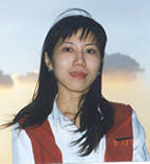 Yu Xiu

Other critics criticized Yu Xiu for lacking literary talent or merit when she launched her second book.

Admittedly, Han Han owes his fame largely to the media ballyhoo, but he's fed and clothed by the readers who have bought his books. Do the readers really buy his books because they admire him for his immense talent? Definitely not. Over the past two years Han Han's books have received lower and lower ratings from the critics. He seems to be going downhill. "The Poison", a new book he launched not long ago, was dismissed sarcastically as a patchwork of several of his previous books.

Then came Guo Jingming, dubbed "Han Han the Second". Seeing that his book "Fantasy City" did well in the market, the publishers availed themselves of this advantage to promote his book series such as "How Many Flowers Fall in Dreams". Tragically, there was a hue and cry over a plagiarism charge against the book.

Many people are worried about the popularity of the juvenile writers, and with reason. What is worrisome is that a boy still wet behind the ears would indulge in talking twaddle about violence and have it described in a best-selling book in an artistic fashion. Even more worrisome for many educators is that a girl could talk freely about sex well before she knows anything about it and then gives the most minute description of it in a book widely read by high school students.

What is most noteworthy is that the ugly and unethical style of the juvenile writers, whose talent has yet to be put to test in the course of history, has already become a spiritual role model to many boys and girls who are eager for quick success and fame.

The juvenile writers' readers are school students. No one knows who will neutralize the undesirable influence of the juvenile writers and their books. To extol with enthusiastic fervor these juvenile writers, who are still in their growing stages, is neither good for the writers themselves, nor is it good for the students who are reading or going to read their books.
Today's Top News
Top Life News

NPC rules out universal suffrage for HK




Institute isolated for suspected lab infection




Zeng: Hegemony never on nation's agenda




Testimony: Japanese war chemicals did harm




300 infected with measles in Sichuan




Lottery row sends man from heaven to hell