A farmer's realm of life
By Zhu Linyong (China Daily)
Updated: 2004-04-27 08:32
Outwardly, oil painter Qiao Wanying looks just like any other farmer.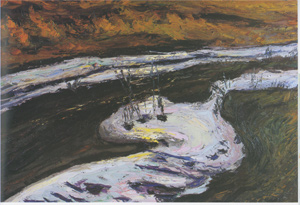 "Flood Land Series: No 12" (Hetan Xiie), oil on canvas by Qiao Wangying, 76กม100 cm [file photo]

He has a stocky but strong build and a sun burnt face. And he smiles heartily, unafraid of exposing his cigarette-stained teeth.

Nor does he ever speak of himself as "an artist." Rather, he often addresses himself as "anof enthusiast oil painting."

But over the yeathem some prominent art professors, Qiao's impressive oil works have won him a number of fans, among rs and critics.

"The first time I saw his oil paintings, I was instantly struck by the somewhat clumsy and rough nature of his works, but also their striking beauty," said Beijing-based art critic Yin Shuangxi.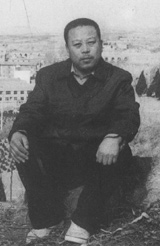 Qiao Wangying, 43, sits on a hill at his home in Xiyang County of North China's Shanxi Province. [file photo]

Yin is passionate when speaking of Qiao's paintings, which are done in bright colours with seemingly unpolished composition, forceful lines, dots, strokes, and chunks of pigment. "I could almost feel the thumping pulse of the artist who, driven by an unchained, burning passion, has worked hard to create these oil paintings," Yin said.

Now, the self-made artist has put on the first major solo exhibition of his oil paintings, entitled "A Farmer's Realm of Life," at the National Art Museum of China. It runs until tomorrow in Beijing.

On display are at least 50 selected paintings Qiao has created in recent years.

Born into a farmer's family in 1961 in the mountainous Xiyang County of North China's Shanxi Province, Qiao cherished a simple but deep love for art from an early age. But the impoverished family could not afford to pay for his further education in fine arts.

Nor could anyone give him any practical advice on how, where and what to learn, Qiao said.

Qiao began to work in a local hardware store after his graduation in 1978 from Xiyang High School.

"Like my brothers and sisters, I am the child of farmers," Qiao said. "But I am a young farmer with a paintbrush. Painting is purely a need of my soul."

Qiao now makes a living by running a small interior decoration company in Xiyang.

A devoted Buddhist and Taoist believer, Qiao also works in a local home for the senior citizens in Juren Village where he lives in an undecorated, simply equipped house with his elderly parents.

Still burning with the love for art, between 1986 and 1988, he "fled," as he described it, from his small village and came to Beijing. He used all his savings to attend short-term training courses in the Central Academy of Fine Arts and the Art Academy of the People's Liberation Army.

"Painting is my only luxury. In the process of painting, I feel a strong sense of tranquility and an enduring inner joy," claimed Qiao.

Qiao often leaves behind the burden of running his company to his younger brother and "disappears" for days, even weeks, going out on a truck, to make sketches and paintings in the mountains.

Before taking up the paintbrush, Qiao said, he often practises meditation in the wilderness, allowing himself to fall into a trance-like state of mind.

"I begin painting only when I got the right mood and cannot stop myself from painting," Qiao said. "After a piece of work is done, I feel like I am just awaking from a deep-set dream. I cannot describe in words how much joy I feel."

But sometimes he may have sat for hours in the sunshine or in the breeze, only to find that he does not get any inspiration and has to give it up, Qiao admitted.

Qiao said he has never forced himself to paint even though he is "always moved by the beauty of the landscapes, of the villages, fields, and fellow countrymen."

"As far as I know, Qiao has travelled very little. All that Qiao paints are just commonly seen scenes in his hometown. All his inspiration comes from the land he is so familiar with," said critic Jia Fangzhou, a friend of Qiao's.

"Some art critics may find in Qiao's paintings the traces of Western Impressionism and even hints of Vincent Van Gogh's works. But Qiao's art is by no means an imitation, it just grows out of his life and out of his heart."

Last April, several of Qiao's oil paintings were first published by China Oil Painting, a monthly academic art journal.

Some of his paintings have also been collected by the Museum of the Central Academy of Fine Arts.

"I was greatly encouraged by these results," Qiao recalled.

"I was not overjoyed, but was humbled by the art of painting. What I can do now is to keep going ahead."
Today's Top News
Top Life News

NPC decision favours gradual electoral changes in HK




Institute isolated for suspected lab infection




Zeng: Hegemony never on nation's agenda




Testimony: Japanese war chemicals did harm




300 infected with measles in Sichuan




Beijing coppers to fly choppers in 2008