Zeng: Hegemony never on nation's agenda
(China Daily)
Updated: 2004-04-26 23:40
Vice-President Zeng Qinghong Monday reaffirmed China's determination to embark on a road of peaceful development.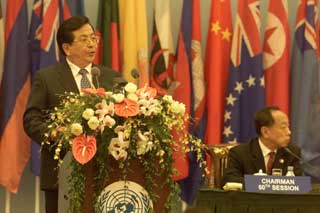 Vice-President Zeng Qinghong delivers a speech at the the 60th United Nations Economic and Social Commission for Asia and the Pacific in Shanghai. [newsphoto]

"Put simply, the theme of the present era is peace and development, and China... has decided to follow the path of seeking development while safeguarding world peace and contributing to world peace through its own development," said Zeng.

He addressed the inaugural session of the Ministerial Segment of the 60th United Nations Economic and Social Commission for Asia and the Pacific (UNESCAP) Monday.

China's continued rapid economic growth has concerned some countries. They are worried that China, which is emerging as a major exporter and destination for foreign direct investment, may impose a threat to others in the region.

The nation's eye-catching economic performance has also made others think about the role it will play in the world's future.

"China will never seek hegemony, at present or in the future, no matter how well-developed it becomes," said Zeng.

He said, through peaceful development, China will co-ordinate its domestic development and open up.

The nation will also boldly participate in economic globalization to develop extensive and mutually beneficial co-operation, Zeng added, stressing in particular the adherence to independence so it can make decisions autonomously.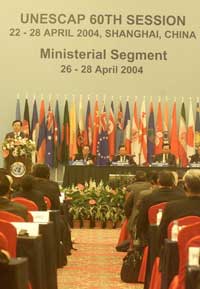 The 60th United Nations Economic and Social Commission for Asia and the Pacific is held in Shanghai. [newsphoto]

During the High-level Visionary Meeting for Asia and the Pacific 2020, former Vice-Premier Qian Qichen said China supports equality, reciprocity and co-operation in its ties with other countries in the region. It does not make use of international or regional organizations to target any country.

"So far, China's diplomacy has been very subtle," said UNESCAP Executive Secretary Kim Hak-su. "It is not threatening others and other neighbouring countries very much respect the way China handles international matters."

Kim told China Daily that he appreciated China's keen interest in the UN and UNESCAP, and held that China can be an active member in the multilateral bodies.

Other participants at the high-level meeting agreed.

China is developing peacefully and that will benefit all others in the region, said Fidel Ramos, the former Filipino president.

"I believe China will not seek hegemony by force," he said.

China has set a good example in actively co-operating with other countries to seek common prosperity and treat neighbouring nations fairly, said former Pakistani President Farooz Ahmad Khan Leghari.

In his speech, Zeng also said that in the face of new challenges, Asia-Pacific countries should build political trust, enhance co-ordination, deepen regional co-operation and advocate harmony while maintaining global diversity.

UN Secretary-General Kofi Annan noted in a message to the inaugural session that the region needs to pay attention to three challenges -- implementing the Monterrey Consensus, which sets out a firm basis for national and regional efforts to promote financing for development, environmental sustainability and the fight against HIV/AIDS.

In an effort to tackle these challenges, this year's UNESCAP session assembled a panel of former leaders to predict the state of Asia in 2020.

Highlighting diversity in the region, Qian said the Asia-Pacific region and countries in the region should "maintain peace and stability, respect and trust each other and stay away from conflicts and wars."

By 2020, every one in the region should be able to enjoy "full development, human rights, dignity and be free from poverty and injustice," he added.

Qian called on religions in the region, like Christianity, Islam, Buddhism, Hinduism and Brahmanism, to cast away their prejudice and discrimination against each other and co-exist in mutual accommodation and promotion.

But he said challenges such as territorial or border disputes, political disagreements, armed conflicts, economic friction and wrangling over resources still need to be conquered to allow the situation to exist.

To that end, countries in Asia and the Pacific need to act collectively, through a strengthened multilateral co-operation network with the UN at the core, Qian said.

While advocating dialogue and co-operation in resolving disputes, he also urged respect for diversity of civilizations and multiple development models in the region.

"They (differences) are no barriers to the common task of meeting challenges but rather important basis for mutual emulation and common progress," Qian said.

On the sidelines of UNESCAP, Zeng held meetings with foreign leaders and officials.

During Monday's gathering with former heads of state and government, Zeng stressed that the differences among the region have provided broad space and opportunities for economic co-operation and trade.

He said China will incorporate its domestic development strategy with the development goals of the Asia-Pacific region for collective development, according to a Chinese Foreign Ministry spokesman.
Today's Top News
Top China News

NPC decision favours gradual electoral changes in HK




Institute isolated for suspected lab infection




Zeng: Hegemony never on nation's agenda




Testimony: Japanese war chemicals did harm




300 infected with measles in Sichuan




Beijing coppers to fly choppers in 2008