22 detained for fake milk products
By Li Jing (China Daily)
Updated: 2004-04-26 08:09
Some 22 people suspected of producing or selling low quality milk powder that led to the deaths of 13 infants in East China's Anhui Province were detained by Sunday.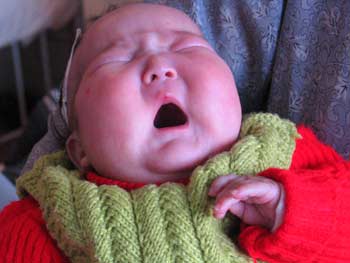 A baby suffers from the "big head disease" after drinking the fake milk powders. [newsphoto]
Meanwhile, producers of 23 out of the 40-odd types of fake milk powder blamed for the malnutrition deaths of the babies have been found, the investigation team dispatched by the central government announced.
Milk powder with low or no nutritional value sold in Fuyang, a city in Anhui Province, resulted in 171 cases of infant malnourishment since May 2003.
Similar cases were also reported in Beijing and Guangzhou after the deaths in Fuyang aroused nationwide attention.
Many of the babies harmed by the fake formula were the children of impoverished, poorly educated farmers, who have little understanding of nutrition and the dangers of counterfeit products.
Fed only the cheap milk powder, the infants developed swollen heads, while their bodies did not grow properly.
The Fuyang government started to provide free health check-ups yesterday to all infants under one-year.
Babies suffering from malnutrition may receive free treatment and families of infants who died will be given 10,000 yuan (US$1,200) in compensation, the local government said .
Hidden factories
Three hidden factories of substandard milk powders sold in Fuyang were shut down on Saturday morning by local police and commercial officials, reported Xinhua News Agency.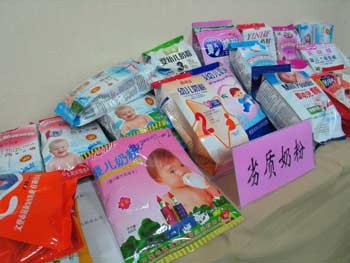 The killing fake mild powders. [newsphoto]
One was in Bengbu, Anhui Province; the second was in Zhengzhou, capital of Central China's Henan Province; and the third one was in Tangshan, North China's Hebei Province.
Beijing health authorities also reported a case on Friday of an infant in Chaoyang District suffering from malnutrition with a swollen head but bony arms and legs.
Cai Changjing, an official with the Beijing Health Supervisory Office, said the milk powder with the brand of "Aomeng" that the infant was fed has little nutritional value in terms of protein, fat, calcium and other elements.
He said the municipal health bureau had ordered all supermarkets and stores to stop selling "Aomeng" milk powder, which is produced by a company in North China's Inner Mongolia.
The State Administration of Quality Supervision, Inspection and Quarantine issued an urgent circular asking local departments to test the quality of milk powders, especially those for infants.
Fuyang city confiscated 21,912 bags of inferior-quality milk powder and sealed 29,550 bags of milk powder by Friday.
The commercial authorities in Xi'an, capital of Northwest China's Shaanxi Province, also confiscated 2,035 kilograms of inferior milk products on Saturday.
While in South China's Guangdong Province, local officials found only 68 per cent of the milk powders in 19 major supermarkets met national standards.
Experts said the milk powder incident serves as an alarm to central and local governments nationwide, since some 17 million babies are born each year in China and 20 per cent of them need to be fed with milk powder.
Vast rural areas
The country's vast rural areas, where supervision is slack and information is insufficient, have become the biggest dumping grounds for low-quality and counterfeit food, officials said.
Reports about babies suffering from malnutrition after being fed fake milk powder were first published by local media in Fuyang last April.
It was not until national media began to investigate and State leaders took action, that local authorities began to implement tough measures against the fakers and wrongdoing sales agencies.
Today's Top News
Top China News

Hu: China to quadruple GDP by 2020 to $4 trillion




Legislators to amend methods on HK issues




Website loses case over MP3 downloads




22 detained for fake milk products




Survey: East richer than west




China reports 4 new suspected SARS cases