Japan's Crown Princess Masako in seclusion

(Agencies)
Updated: 2004-04-25 14:39
Late last year, Japanese Crown Princess Masako announced she was exhausted and excused herself from royal duties. Last month, she took refuge in her family's summer home in a wooded mountain resort.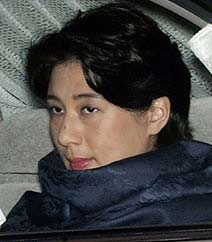 Crown Princess Masako leaves the Imperial hospital in Tokyo after being discharged December 8. [AP Photo]

Officials say they do not know when she will return.

Intelligent, affable and cosmopolitan, Masako seemed the perfect addition to the world's oldest royal family when she wed Crown Prince Naruhito 11 years ago. But imperial duties have proved almost too much for her to bear -- and, experts say, her plight could bode ill for the Chrysanthemum Throne.

A flurry of reports in the tabloid press have noted it is unprecedented for the princess, who is with her mother and daughter, to stay at a private residence; that even her official attendants have limited access to her; and that although the prince has visited her twice, he spent much of his time in a hotel.

"Worries deepen over Princess Masako," said one typical report, in Shincho, a popular weekly magazine. "Is she really recovering?"

Despite all Masako has going for her, and her popularity with the public, she is plagued by a burden as old as the throne itself _ the duty to produce an imperial heir.

Masako, 40, and Naruhito, 44, had their only child, Princess Aiko, two years ago. An earlier pregnancy ended in a miscarriage, which the palace blamed largely on media attention.

Aiko's birth did little to ease the tension.

Under a post-World War II law, only males can assume the throne. There are no princes in the generation after Naruhito, whose younger brother has two daughters. Naruhito's only sister is 35 and says she has no immediate plans to marry.

With the likelihood fading that a boy will be born, the long-avoided topic of allowing a woman to assume the throne is under serious discussion. Proponents stress Japan has had reigning empresses -- albeit not since the late 1700s. Others point to Sweden, which changed its laws in 1979 so Crown Princess Victoria could succeed her father.

"There is simply no reason why we shouldn't allow a woman to reign," said opposition lawmaker Satsuki Eda. "I think it is a very good thing that we are able to discuss this issue, without worrying about taboos."

Masako's woes go deeper than the succession crisis.

Since the late Emperor Hirohito renounced the idea that he was a living god after Japan's defeat in 1945, the royal family has acted as a "symbol of the nation," handing out awards, observing imperial rites and greeting foreign dignitaries.

Educated at Harvard, Oxford and Japan's top university before becoming a career diplomat, Masako was seen as a natural for that role. And at a time when Princess Diana was enchanting crowds worldwide, it was hoped Masako would offer a little glitter to Japan's royal family.

That hasn't happened.

Masako has made only five trips overseas since her wedding. Her husband is expected to attend royal weddings in Denmark and Spain next month, but officials announced Friday that Masako will not be going.

Ken Ruoff, director of the Center for Japanese Studies at Portland State University, said Masako has been hemmed in by fears she could outshine her husband.

"It's just been extremely unclear what the crown princess and crown prince stand for," he said. "If they are not seen as lending their prestige to useful causes and just living selfish lives, there could be a reaction against the throne."

He noted that the couple remains popular.

"In some ways, the blandness is more in tune with what the Japanese expect than having a crown prince who is zipping around the archipelago in a sports car," Ruoff said.

Naruhito has been supportive of his wife.

"Although it may be some time before Princess Masako returns to her official duties, for my part, I will be by her side to offer encouragement, to give advice, and to do all I can to help her health improve," he said in February.
Today's Top News
Top Life News

Chinese economy facing challenges




SARS patient's temperature back to normal




Local gov't debts sound warning




Electric sparks blamed for DPRK train blasts




China's per capita GDP to hit US$3,000 in 2020




Da Vinci: Inventor of the Car?