Official: Bush confers on Fallujah
(Agencies)
Updated: 2004-04-25 11:40
US President Bush held a conference call Saturday with his senior national security and military advisers to discuss the situation in Iraq, particularly restive Fallujah, a senior defense official said.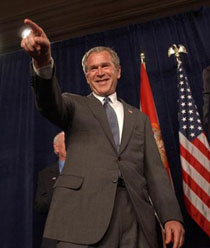 The official said the purpose of the teleconference was mainly for Gen. John Abizaid, the top U.S. commander for the Middle East, to give Bush and others an update on the situation inside the city and the U.S. Marines' readiness to resume offensive operations against thousands of insurgents hole up there.
The senior official, who spoke on condition of anonymity, said it was not clear when Abizaid would determine that time had run out on efforts to achieve a peaceful end to the Fallujah standoff. He said Abizaid has the Marines "ready to go" back on the offensive at any time.
The New York Times reported in its Sunday editions that Bush and his senior advisers were expected to decide this weekend whether to invade Fallujah, even at the risk of stirring additional resentment by Iraqis in other areas.
White House spokesman Trent Duffy confirmed that the president, spending the weekend at Camp David, was given his daily national security briefing on Saturday, but noted that neither the agenda nor the contents of those briefings are made public.
"I can't say anything about what was discussed, but the president did have his daily briefing," Duffy said.
The senior defense official, who did not participate in the briefing but knew of it, said his impression was that it was not a decision-making session, but essentially an opportunity for Abizaid to update Bush and his top aides about the military situation in Iraq in general and specifically regarding Fallujah.
The official said it was his impression the president showed no inclination to override the advice of his senior military staff on the decision.
Wrapping up a day of campaigning and fund raising Friday in Florida before flying to Camp David, Bush vowed that "America will never be run out of Iraq by a bunch of thugs and killers."
The teleconference meeting came as U.S. commanders in Iraq repeated warnings that they may soon launch a new assault on Fallujah, saying guerrillas had not abided by a call to surrender heavy weapons.
L. Paul Bremer, the top U.S. administrator in Iraq, traveled to the Marine base outside Fallujah for consultations Saturday, while Brig. Gen. Mark Kimmitt told reporters: "Should there not be a good faith effort demonstrated by the belligerents inside Fallujah, the coalition is prepared to act."
Today's Top News
Top World News

China reports 4 new suspected SARS cases




Chinese economy facing challenges




Local gov't debts sound warning




Red Cross: North Korea site flattened




China's per capita GDP to hit US$3,000 in 2020




Da Vinci: Inventor of the Car?