DPRK blast scene: A ring of destruction found
(Agencies)
Updated: 2004-04-24 23:54
Aid workers found huge craters and a ring of destruction Saturday at the scene of a massive train explosion that North Korea blamed on carelessness, saying downed power lines ignited a cargo of oil and chemicals.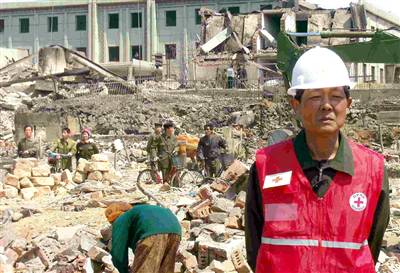 Rescuers sift through rubble Saturday after a catastrophic explosion at the railway station in Ryongchon, North Korea. [Reuters]

There was no sign of the dead or injured who were apparently removed by North Korean officials before foreign diplomats and aid workers based in North Korea visited the site of Thursday's blast.

North Korean officials said the explosion at a railway station in Ryongchon, a city near China's border, killed at least 154 people and injured 1,300, Red Cross official Jay Matta said by phone from a nearby town. Half of the dead were children, killed when their school was destroyed.

"There was just rubble everywhere and very large craters in the ground. The buildings around were totally flattened, especially the houses. It's just a mess everywhere," he said.

Buildings in a radius of hundreds of yards were "totally destroyed."

The visit followed a rare invitation from the North's government, which relaxed its normally intense secrecy as it pleaded for international help.

North Korea, in its first statement on the disaster, said in a dispatch by its state news agency that the explosion was touched off by "electrical contact caused by carelessness during the shunting of wagons loaded with ammonium nitrate fertilizer," which can also be used in explosives and rocket fuel.

The dead included 76 children whose school was destroyed, said John Sparrow, a Red Cross spokesman in Beijing. He said 129 public buildings were destroyed and 120 damaged, including a hospital and an agricultural college.

The foreign aid workers saw no signs of any dead or wounded North Koreans, Matta said.

"It looks like they did a thorough search before we came," he said.

Chinese villagers 12 miles away said they were shaken by the force of the blast and saw a black, mushroom-shaped cloud tower over the horizon.

Few foreign journalists are allowed into North Korea. The report by China's Xinhua News Agency was the first from Ryongchon by foreign media.

North appeals for foreign help

In an uncharacteristically candid report, the North's news agency KCNA said "the damage is very serious" and expressed appreciation for promises of international humanitarian assistance.

Those offers came in the hours after the North issued a rare appeal for foreign help, inviting aid workers to come see the disaster site in Ryongchon, a city with chemical and metalworking plants and a reported population of 130,000.

U.S. defense officials have said that damage from the blast extended at least 200 yards from the railway station.

Diplomats and aid groups were told by the North that thousands of apartments and houses were destroyed or damaged.

On Saturday, an aid convoy was headed to the site carrying antibiotics, bandages, painkillers and other supplies -- all of which are scarce in the impoverished country, said John Sparrow, a Red Cross spokesman in Beijing.

"We are fearful that they could be overwhelmed by the large numbers of injured," he said, adding that many people might have been made homeless and would need tents and other shelter.

North Korea restricts the movement of foreigners, and groups that distribute aid to alleviate its food shortages are barred from some areas.

Aid workers have been allowed to visit areas struck by drought or floods in recent years, but the government has never arranged such quick access to the scene of a disaster like the train explosion. Those visiting the site Saturday were not allowed to carry mobile communications, said Brendan McDonald, head of the U.N. office for coordination in Pyongyang, the North Korean capital.

The World Health Organization said it did not expect to hear from its representative until he returned to Pyongyang on Saturday night.

'Mushroom cloud' seen across Chinese border

Chinese villagers near the North Korean border said they could see and hear the blast in Ryongchon.

"I first saw a big fireball. Then I heard the sound of the explosion. Then I saw smoke come up," said a fisherman in the village of Anmin, as he prepared to take his boat out to the Yellow Sea. He gave only his family name, Qu. "We were very scared."

A shopkeeper in Anmin, who gave his name as Mr. Shen, said he saw ¡°black smoke, just like a mushroom cloud after a nuclear bomb.¡± He said it disappeared 10 minutes later.

North Korean officials told Britain¡¯s ambassador that ¡°several hundred people were thought to have died and several thousand were injured,¡± a British Foreign Office spokesman said.

North Korea's Deputy U.N. Ambassador Kim Chang Guk told Associated Press Television News he didn¡¯t have details about the explosion.

"But I think it is very serious because our government held out its hand to the world community for help," he said in New York. "It means it is a great incident."

China and South Korea offered assistance. And U.S. State Department spokesman Richard Boucher said Washington was evaluating the situation to see "if there is a need or an opportunity for the United States to help."

The blast leveled the train station, a school and apartments, South Korea's Yonhap news agency said, quoting Chinese witnesses. It said there were about 500 people in the station at the time.

South Korea's Chosun Ilbo newspaper, citing a South Korean intelligence source, said a U.S. spy satellite photograph showed damage mostly in densely populated neighborhoods east of the station.

"Hospitals are jam-packed with people injured," Chosun Ilbo quoted a Chinese witness as saying.

But there was no sign in Dandong, a Chinese border city about 12 miles from Ryongchon, of injured North Koreans. But the city's three biggest hospitals were preparing for a possible surge of patients.
Today's Top News
Top World News

Two SARS cases confirmed, one died, virus from lab




Alleged collegiate killer sentenced to death




Hu: Modernization needs long uphill battle




China condemns attack on consulate




DPRK blast scene: A ring of destruction found




Wu urges US to loosen export controls