Voting begins on UN solution plan in Cyprus
(Xinhua)
Updated: 2004-04-24 15:41
Polling stations opened here Saturday at 7 am local time (0400 GMT) for what has been described as a crucial vote for the future of Cyprus, since Greek Cypriots and Turkish Cypriots are to decide whether they accept a UN plan for a political settlement.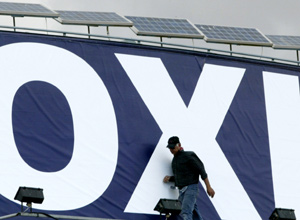 Workman takes down a Greek Cypriot poster which says "No" in Greek as a referendum campaign on the island comes to an end, on the outskirts of the divided capital Nicosia April 23, 2004. Greek Cypriots and Turkish Cypriots living on the island vote on Saturday in a referendum on both sides for the approval or the rejection of a U.N. reunification plan. Opinion polls suggest the plan will be rejected by Greek Cypriots. Cyprus is entering the European Union on May 1 regardless of the outcome of the vote. [Reuters]

The total number of eligible voters in the Greek Cypriot community is 480,165. In the Turkish Cypriot community, 143,636 persons will vote in the referendum.

Polling will start from 7 am and last to 18 pm (1500 GMT) with a one-hour break for lunch from 1200 to 1300.

The final result is expected to be announced within an hour from the start of counting the votes, which will take place at the polling stations.

In the Greek Cypriot side, some 5,500 civil servants, 2,500 police officers and 500 nurses, fire-fighters and others working in emergency services will be on duty.

Cyprus, an east Mediterranean island, has been divided into the Turkish-Cypriot north and the Greek-Cypriot south since 1974 when Turkish troops entered the north of the island after a failed Greek-Cypriot coup seeking union with Greece.

Negotiations between Greek and Turkish Cypriots, under the UN auspices, resumed in Nicosia in February, but failed to achieve any results in the first phase which ended on March 22.

The second phase of the talks, which also brought in Greek and Turkish leaders, switched to Switzerland on March 24.

On March 31, UN chief Kofi Annan handed both communities a revised version of his original proposal for a Cyprus settlement which also drew different reactions from the two sides.

Despite the lack of an agreement on the Annan plan, Annan has decided to go ahead with public referenda on his blueprint for reunification, which sees two loosely tied ethnically-based zones on the Mediterranean island.

According to the arrangements, Greek and Turkish Cypriots are to vote on the plan in separate referenda on Saturday. If it fails on one side or the other, only the internationally recognized Greek Cypriot side will join the EU on May 1.
Today's Top News
Top World News

Two SARS cases confirmed, one died, virus from lab




Alleged collegiate killer sentenced to death




Hu: Modernization needs long uphill battle




China condemns attack on consulate




N. Korea cites human error in crash killing 154




Wu urges US to loosen export controls