Pentagon clamps down on coffin photos
(Agencies)
Updated: 2004-04-24 10:10
Photographs of flag-draped cases bearing American casualties from Iraq should not have been made public under a Pentagon policy prohibiting media coverage of human remains, officials said.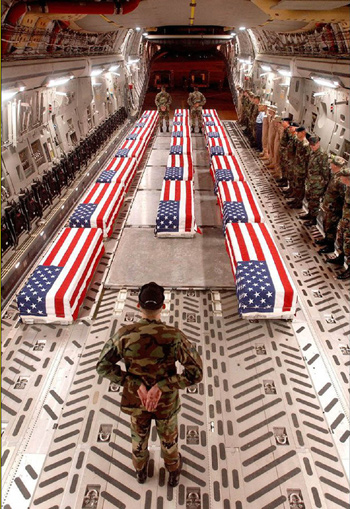 Coffin of US millitary personnel are ready to be offloaded at Dover Air Force Base in Dover. [Reuters/file]

"Quite frankly, we don't want the remains of our service members who have made the ultimate sacrifice to be the subject of any kind of attention that is unwarranted or undignified," said John Molino, a deputy undersecretary of defense.

A Web site published dozens of photographs of American war dead arriving at the nation's largest military mortuary, prompting the Pentagon to order an information clampdown Thursday. Pentagon spokesman Lt. Col. Gary Keck said release of the photos appears to be in conflict with policy.

The photographs were released last week to First Amendment activist Russ Kick, who had filed a Freedom of Information Act request to receive the images. Air Force officials initially denied the request but decided to release the photos after Kick appealed their decision.

After Kick posted more than 350 photographs on his Web site, the Defense Department barred the further release of the photographs to media outlets.

"They're not happy with the release of the photos," Dover Air Force base spokesman Col. Jon Anderson said.

The photos were taken at the Dover base - home to the mortuary - and most of the images are of flag-draped cases used by the military to transport remains.

At a rally in Dover last month, war protesters criticized President Bush for continuing the practice of previous administrations of not allowing the public or media to witness the arrival of remains at the base.

"We need to stop hiding the deaths of our young; we need to be open about their deaths," said Jane Bright of West Hills, Calif., whose 24-year-old son, Evan Ashcraft, was killed in combat in July.

Telephone and e-mail messages to Kick were not immediately returned Thursday.

Brig. Gen. Mark Kimmitt in Baghdad told ABC's "Good Morning America" that U.S. military policy clearly states that the first persons who should be entitled to see their deceased loved ones should be family.

"I certainly know for myself that I would not want one of my loved ones to be a public spectacle before I'd had that first opportunity to grieve in person," he said.

The Pentagon move came a day after a cargo worker was fired by a military contractor after her photograph of flag-draped remains was published on the front page of Sunday editions of The Seattle Times.

Tami Silicio, 50, was fired by Maytag Aircraft Corp. on Wednesday after military officials raised concerns about the photograph taken in Kuwait, said William L. Silva, Maytag president.

Silicio took the photograph in a cargo plane about to depart from Kuwait International Airport earlier this month. She sent the photo to a stateside friend who provided it to the newspaper, which then obtained permission from Silicio to publish it.

In a telephone interview from Kuwait, Silicio said Friday on ABC's "Good Morning America" that she agreed to the photo's publication because family members of casualties should see that the remains are treated carefully and with respect.

"I think if the administration were more sympathetic, they would see that this is a positive thing," she said. Family members "want to see how our loved ones, how our heroes are being taking care of and how they get home."

On NBC's "Today" on Friday, Republican Sen. Lindsey Graham of South Carolina agreed with the policy banning photos from Dover because "there's no ceremony held; it's a caretaking event."

But Democratic Rep. Jim McDermott of Washington, who served in the Navy during the Vietnam War, said photos of caskets coming home from Vietnam had a tremendous impact on the way Americans came to view that war.

"As people began to see the reality of it and see the 55,000 people who were killed coming back in body bags, they became more and more upset by the war," he said. "This is not about privacy. This is about trying to keep the country from facing the reality of war."
Today's Top News
Top World News

Two SARS cases confirmed, one died, virus from lab




China condemns attack on consulate




DPRK confirms severe train blast




Forum to promote 'Asian family'




Wu urges US to loosen export controls




Charm school for government officials